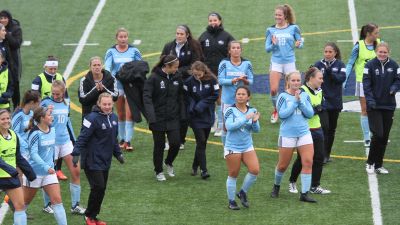 SEWARD, Neb. – Of course every game is worth the same in regards to the GPAC standings, but it's felt like more than just another game when the Concordia University women's soccer team and Hastings get together. The Bulldogs and the 18th-ranked Broncos will go head-to-head at 5:30 p.m. CT inside Bulldog Stadium on Wednesday. Concordia will also host new GPAC soccer member Presentation on Saturday with hopes of remaining in first place by week's end.
This week
Wednesday, Oct. 3 vs. No. 18 Hastings (7-0-1, 4-0), 5:30 p.m.
Saturday, Oct. 6 vs. Presentation (1-9-1, 0-6-1), 5:30 p.m.
Both of this week's games will be featured live on the Concordia Sports Network with Frank Greene calling the action.
While the Bulldogs (7-1-2, 4-0 GPAC) have settled in at No. 4 in the official GPAC rankings, they enter the week tied atop the league standings along with Briar Cliff and Hastings. As a matter of fact, Concordia has gone nearly two full years since its last loss in a GPAC regular-season game (Oct. 12, 2016 vs. Midland). After claiming 3-2 wins last week over both Morningside and Dordt, the Bulldogs improved to 18-0-1 over their last 19 conference regular-season contests. So far in 2018 conference play, Concordia has outscored its first four opponents by a combined total of 15-5.
Senior Maria Deeter is on a goal scoring splurge. She contributed two goals apiece in last week's victories. The biggest highlight was her golden goal in the 109th minute of the double overtime win at Morningside. The big week means Deeter (nine goals this season) has moved into a tie with Midland's Nayeli Rodriguez for the most goals among GPAC players. The Bulldogs also have the conference leader in assists. Lauren Martin has racked up 12 assists (tied for the most in the NAIA), including one in the win over Dordt.
Concordia made the series with Hastings into a more competitive rivalry by twice upsetting the Broncos in 2014 (the second win occurred in the GPAC tournament title game). Since the start of the 2014 season, the Bulldogs are officially 3-2-2 against the Broncos. Concordia is hoping for a measure of revenge after falling in a shootout in last season's GPAC championship match versus Hastings.
"Over the last four years it's been two good programs going head-to-head," Henson said. "They've been very competitive games. We've played each other seven times over the last four years so there's a lot of familiarity between the programs and the players. It's become a strong rivalry. We know that they're a team that we have to beat in order to accomplish our goal, which is defending our league title."
The most impressive result on the Broncos' record may actually be the tie that it earned back on Aug. 31 with Benedictine College (Kan.), currently ranked No. 3 in the NAIA poll. Hastings also owns a win over a top 25 opponent in Central Methodist College (Mo.). Head coach Chris Clements' squad has outscored its opponents by a combined total of 26-5. The leading Bronco goal scorer has been Rhiannon Castle de Ortega, who has found the back of the net six times. Hastings has conceded more than one goal only once – versus Presentation in a 4-2 win.
The Saints just picked up their first win of the season on Sunday in what amounted to a 2-0 decision at Stephens College (Mo.). Presentation has one point in the GPAC standings courtesy of a draw with College of Saint Mary. The Saints have been outscored 32-9 by this season's opponents. Goalkeeper Kristina Nelson has faced heavy fire. She's made 83 saves in just over 1,000 minutes of action this fall.
Conference play will continue next week with Concordia playing at Doane on Wednesday, Oct. 10 before hosting Dakota Wesleyan on Saturday, Oct. 13. The Oct. 13 game will be senior day.