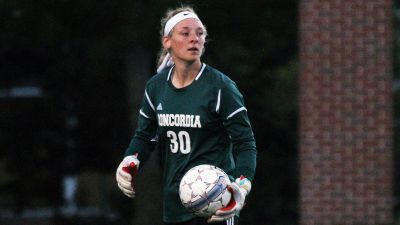 SEWARD, Neb. – Three Bulldogs landed on the All-Nebraska team and another four garnered honorable mention status, representing the GPAC tournament champion Concordia University women's soccer team. The highest honors went to Sami Birmingham, Maria Deeter and Chrissy Lind, as selected by the Omaha World-Herald and announced on Christmas day.
Named a team captain in just her second collegiate season, Deeter has starred in the midfield for the Bulldogs since arriving last fall. The Seward native collected first team All-GPAC honors in 2016 and second team all-conference accolades in 2015. She's also been tabbed to the All-Plains Region team each of the last two seasons by the NSCAA. Deeter made 21 starts this season and contributed seven goals and five assists. Over 43 career collegiate games, Deeter has tallied 13 goals and 11 assists.
Birmingham, who hails from Johnston, Iowa, made a major impact in her freshman season. Her 20 goals led the team and are the second most ever scored by a Concordia freshman. She shined during the conference tournament, totaling four goals and two assists over the three GPAC postseason victories. The first team All-GPAC choice and second team All-Plains Region pick finished with national rankings of 10th in game-winning goals (6), 13th in total goals, 13th in total points (50) and 27th in total assists (10).
The record-setting Lind picked up second team All-GPAC recognition in 2016. This past season she broke the school record for career saves (345). She also ended her collegiate run with program career standards for shutouts (26), games played (79) and minutes played (6,956). This past season she collected six shutouts while posting a save percentage of .839 and a goals against average of .972.
Concordia honorable mention choices were Rachael Bolin, Jeannelle Condame, Ashley Martin and Esther Soenksen. Condame and Martin have garnered second team all-GPAC honors two-straight years. A weapon on corners and free kicks, Condame totaled two goals and five assists while starting 21 games this season. Another key part of the back line, Martin assisted three goals and started all 22 games. Bolin teamed up with Birmingham up front for a potent one-two punch. Bolin registered 10 goals and 10 assists and played in all 22 contests. Soenksen contributed eight goals and 10 assists and started all 22 games. She recorded the game-winning goal in the GPAC semifinals.
Head coach Greg Henson's squad completed 2016 with a record of 15-6-1 and reached the national tournament for the second time in three years.
2016 All-Nebraska Women's Soccer Team
F: Nayeli Rodriguez, Fr. Midland
F: Taylor Geis, Sr. Hastings
F: Sami Birmingham, Fr. Concordia
F: Heidi Bartsch, Jr. Hastings
F: Carys Hund, So. Wayne State
F: Evie Sintek, Sr. UNK
M: Megan Kruse, Sr. Hastings
M: Maria Deeter, So. Concordia
M: Maddy Paskevic, Sr. Hastings
M: Reyvin Hernandez, So. Bellevue
M: Natalie Rech, So. Wayne State
M: Carly Brown, Jr. UNK
D: Michaela Vadeboncoeur, Sr. Hastings
D: Sara Goodman, Sr. Hastings
D: Marley Farrell, Fr. Midland
D: Victoria Perez, Sr. Bellevue
D: Kelsey Engstrom, Sr. Wayne State
D: Marika Van Brocklin, Jr. UNK
G: Chrissy Lind, Sr. Concordia
G: Emma Toohey, Fr. Hastings
G: Allie Prososki, Fr. UNK
Honorary captain: Megan Kruse, Hastings College
Honorable mention: Kristin Hanson, Margie Garcia, Laurence Rodier, Jordyn Seidel, Bellevue; Rachael Bolin, Ashley Martin, Jeanelle Condame, Esther Soenksen, Concordia; Anais Quossi, Meaghan Delaney, Doane; Gabby DiDio, Alii Dominguez, Kylie Stephens, Hastings; Hannah Stewart, Courtney Tjards, Jordan Thiem, Midland; Kylie Comba, Alexis Strothers, Brooke Buzzell, Wayne State; Kori Fink, Madison Francis, Natalie Graves, Laurel Heskett, Nebraska Wesleyan; Maddie Love, Tori Weber, Kelsie Ienn, Molly Willis, UNK.