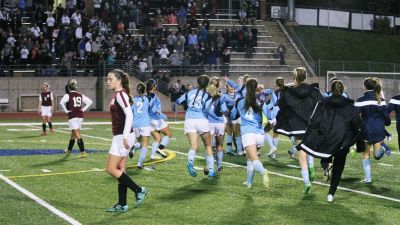 The spectacle of the Bulldog Stadium-housed 2016 GPAC championship game blew away all expectations. The bleachers on the east side of the stadium rocked and roared on a mild November night that saw the Concordia University women's soccer program host a conference title game for the first time ever. Students flocked in droves – not just for the free T-shirts – but to be part of history.
Says sophomore captain Maria Deeter, "It was crazy. I remember when we went to Morningside (last year), it was pretty intimidating being on the other side of it. I was really hoping the crowd would turn out, and it blew my mind. I didn't expect that many people to come. It's so fun to be able to play in front of all the people you know and all your supporters. To get the win makes it that much better."
The mass of people in the bleachers spilled out onto the field when the clock hit zeroes and the scoreboard indicated a 3-1 Concordia advantage. For the second time in three years, head coach Greg Henson's program claimed the GPAC tournament title and locked up another trip to the national championships.
Not only that, the 2016 team equaled the standard-setting 2014 group with 15 victories, the most in a season since the program got started in 1996. The 2016 GPAC championship win over Morningside ranks right up there with the upset of Hastings in the 2014 GPAC title game when it comes to memorable moments in school history.
"It was easily the best atmosphere that we've played in during my four years at Concordia," Henson said of the championship game that took place in Seward on Nov. 10. "It definitely trumped the past championship environments that we've experienced. It was a great opportunity for our players to play in front of such a large crowd here at home. I think that played a little bit into some jitters coming out. Unfortunately, we fell behind, but we saw the resolve of our players knowing they could come back."
Just like the 2014 and 2015 teams, the 2016 Bulldogs were at their best when it mattered most. This year's team sat at 7-5-1 overall after a 3-1 loss to Midland on Oct. 12. A switch flipped and Concordia then rattled off a school record eight-game winning streak, during which it outscored its opponents by a combined total of 29-3. Included in that stretch was a 1-0 GPAC semifinal overtime win at Midland that avenged what had been the Bulldogs' most recent loss.
Junior Esther Soenksen played the part of the hero in downing the second-seeded Warriors with the golden goal. Then in the rematch of the 2015 GPAC title game, freshmen Sami Birmingham and Rachael Bolin took over the goal scoring exploits. The Killer B's stung the Mustangs, beginning in the 36th minute with Birmingham's goal assisted by Bolin. Then Bolin added one of her own, assisted by Birmingham, who later put the cherry on top with an 83rd minute tally.
The additions of Birmingham and Bolin, coupled with the return of the likes of Deeter, Jessica Skerston and Soenksen, made the 2016 squad different than the ones that came before it. Birmingham finished with 20 goals (second most ever by a Concordia freshman) to spearhead an attack that totaled 67 goals. Only one team in program history (2004) has ever produced more goals.
"The name of the game is scoring goals," Henson said. "We had those abilities this year a little bit more than in the past because of the compliment of players that we have and the number of goal scoring options that we had. Once we got into the rhythm of the season they got more comfortable with each other. We weren't just settling for those 1-0, 2-1 wins. We were looking to put games away."
With the help of a solid defensive unit, the Bulldogs broke another program record with a goal differential of plus-47. Led by accomplished senior goalkeeper Chrissy Lind and a backline that typically included center backs Kristin Manley and Leah Shohat and outside backs Jeannelle Condame and Ashley Martin, Concordia recorded nine shutouts.
Lind finished her career possessing nearly every major career goalkeeping school record, including games (79) and minutes played (6,956), saves (345) and shutouts (26). Her 10 shutouts in 2014 stand as a single-season record. This season she made a career high 104 saves and earned second team All-GPAC recognition. Lind improved her game rapidly after having less than two years of soccer playing experience prior to arriving at Concordia in the fall of 2013.
"What we talked about throughout her career was the transformation of her game," Henson said. "She had to go from being an athlete to being a goalkeeper. I think she really did that well as she progressed each year. Having a fresh perspective (from goalkeeper coach Dan Ball) helped her blossom this year and have her best season. She fulfilled what her potential was as a goalkeeper. She's set the bar high."
With Lind in goal, this season's journey did not end until a trip to West Palm Beach, Fla., for the opening round of the national tournament. The Bulldogs pushed third-ranked Keiser University, playing them to a scoreless first half. The Seahawks eventually put two on the board in the second half and won, 2-0, ending another storybook year for Concordia, whose consolation prize after the season-ending loss was a trip to the beach.
Lind headlined a senior class that piled up 52 wins over four seasons. That group included three others that started in the national tournament: Megan Brunssen, Manley and Jordan McCoy. As Henson points out, every season and every team is different. But 2017 looks promising for a program that now has a well-ingrained winning culture.
"We're going to miss them," Henson said of the seniors. "They've been the heart and soul of the program for the last four years. Every year you start over. Each team has a new personality. We have to figure out who we're going to be as we move forward. We have a lot of quality players on this team and I think we're going to have a great spring season."