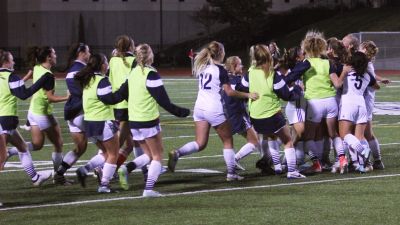 SEWARD, Neb. – Three years ago, the Concordia University women's soccer program came out of nowhere, advanced to the conference tournament championship game and upset then 20th-ranked Hastings in a watershed moment for the program. Fast forward to the present and you find a Bulldog team no longer serving the role of underdog. Top-seeded Concordia will host second-seeded Hastings at 7 p.m. CT in Friday's GPAC tournament championship game.
Fifth-year head coach Greg Henson's program owns a streak of 20-straight games against GPAC opponents without a loss. At 15-2-3 overall, the Bulldogs need one more victory to tie a school single-season record. Members of the team are looking forward to defending their 2016 conference tournament title on Friday night.
"I'm pretty confident they're going to turn out," said junior captain Maria Deeter. "Bulldogs support Bulldogs in any and all sports. It's exciting because all the hard work we've put in, we get to show it off to the rest of the campus. We've worked and grinded since preseason. Friday we just come out have fun, play our game and hopefully get another championship."
A GPAC finalist for the fourth year in a row, 21st ranked Concordia has had to sweat out wins in the quarterfinals and semifinals. The Bulldogs got past both eighth-seeded Morningside and fifth-seeded Northwestern by identical 2-1 final scores. Game-winning goals were credited to junior Lauren Martin and freshman Victoria Cera. Concordia had not beaten the Red Raiders since the 2008 season.
The Bulldogs have been a mostly air-tight defensive unit. They allowed only one goal during the entire 10-game GPAC regular-season slate. Concordia has actually surrendered a goal in back-to-back games for the first time since the middle of September. Goalkeeper Lindsey Carley ranks ninth nationally in goals against average. With a header goal on Tuesday, Deeter retook the team goals lead to herself with 10. She also has 10 assists. Kaitlyn Radebaugh and Sami Birmingham are right on her heels with nine and eight goals, respectively.
Perennially a league favorite, Hastings is making its first appearance in the conference tournament championship game since falling victim to the Bulldogs in 2014. The Broncos' most recent GPAC tournament title came in 2013. Head coach Chris Clements' squad has advanced to Friday's final on the strength of a 10-0 demolition of seventh-seeded College of Saint Mary in the quarterfinals and then a penalty kick shootout win over Midland following 110 minutes of scoreless action. Senior forward Heidi Bartsch is tied for the conference lead with 18 goals on the year.
Hastings is the most recent GPAC women's soccer program to sweep both conference regular season and postseason titles. The Broncos accomplished that feat in 2011. In the years since then, four different teams have claimed at least one GPAC tournament championship: Concordia (2014, 2016), Doane (2012), Hastings (2013) and Morningside (2015).
Friday's game will be carried live by the Concordia Sports Network. The winner will earn an automatic bid to the opening round of the national championships (Nov. 18).
2017 GPAC Women's Soccer Tournament
Thursday, Nov. 2 – Quarterfinals
No. 1 Concordia 2, No. 8 Morningside 1
No. 5 Northwestern 1, No. 4 Dordt 0
No. 3 Midland 2, No. 6 Briar Cliff 1 (OT)
No. 2 Hastings 10, No. 7 College of Saint Mary 0
Tuesday, Nov. 7 – Semifinals
No. 1 Concordia 2, No. 5 Northwestern 1
No. 2 Hastings 0, No. 3 Midland 0 (2 OT)
*Hastings advanced 3-1 on penalty kicks
Friday, Nov. 10 – Championship
No. 2 Hastings (15-2-3) at No. 1 Concordia (15-2-3), 7 p.m.