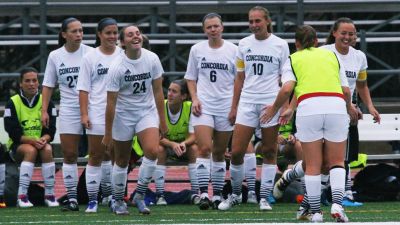 SEWARD, Neb. – The Concordia University women's soccer team couldn't have asked for a much more challenging opening to the conference season. Following a 1-0 home defeat at the hands of Northwestern on Sept. 24, the Bulldogs now look forward to road trips to No. 12 Hastings (7-1-1, 1-0 GPAC) on Wednesday (5:30 p.m. CT) and to defending GPAC tournament champion Morningside (3-5, 1-1 GPAC) on Saturday (6 p.m. CT).
Under fourth-year head coach Greg Henson, Concordia has shown an ability to rise to the occasion in big games. The Bulldogs are the only team to appear in the GPAC tournament championship contest in each of the past two years. They will need similarly elevated play this week to bounce back from their first home loss of 2016.
"It's something we knew about going in that it was going to be a tough start to conference play," Henson said following last week matchup with the Red Raiders. "We have three very good opponents right off the bat. It's unfortunate that we weren't able to take care of business (versus Northwestern). Now we have to go on the road against two of the top teams in the conference. We'll look to get results there."
The Concordia-Hastings series has morphed into a competitive rivalry in recent seasons. The Broncos were stunned by the Bulldogs twice in 2014 when Concordia upset Hastings teams ranked 16th and 20th at the time of their meetings. The second occurred in the GPAC title game in Hastings. Then last season, the Bulldogs again celebrated at Lloyd Wilson Field when they triumphed in a penalty kick shootout that followed a 1-1 draw in the semifinals of the conference tournament.
The intensity has ratcheted up over the last couple of years when the Bulldogs and Broncos have gotten together. For seniors like Jordan McCoy, such contests have never been difficult to get amped up for.
"Those games are crazy," said McCoy, prior to the start of this season, about playing Hastings. "Those are the best memories I have. We're on their field celebrating and they're just walking away like, 'How did we let that happen?' I think before we needed to earn their respect a little bit and now they're like, 'OK, this is a big game for us, too.' It's more of a rivalry. Before they knew they were better than us."
The Broncos have been impressive so far, going 7-1-1 while collecting wins over No. 11 Grace College (Ind.) and No. 13 Baker University (Kan.). The aggressive Hastings attack ranks No. 2 nationally in shots on goal per game (12.7) and eighth in the NAIA in goals per game (3.9).
Saturday's matchup in Sioux City, Iowa, will be a rematch of the 2015 GPAC tournament championship game. The Mustangs squeaked out a 2-1 victory with a goal in the 90th minute. Morningside has many of its key players back in place from a year ago, but has been outscored by a combined total of 18-11 so far this season.
The Bulldogs entered this week with four players ranking among the top 12 of the GPAC in terms of goals scored: freshman Sami Birmingham (6), Rachael Bolin (4), Maria Deeter (4) and Esther Soenksen (4). Concordia and Hastings are tied for the conference lead for fewest goals allowed per game (1.0).