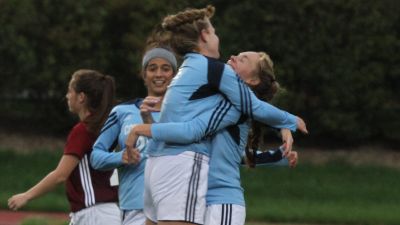 SEWARD, Neb. – For the second time in her career, sophomore Sami Birmingham has been tabbed the GPAC/Hauff Mid-America Sports Women's Soccer Offensive Player of the Week, as announced by the conference on Tuesday (Oct. 17). Birmingham is the fourth different member of the Concordia University women's soccer team to be named a GPAC player of the week this season.
Also awarded a GPAC weekly honor on Nov. 8, 2016, the Johnston, Iowa, native spurred the Bulldogs to 3-0 home wins over both Doane and Morningside last week. She earned credit for the game-winning goal in both contests. The native of Johnston, Iowa, has ramped up her offensive production in recent action, totaling four goals over the past four games for the GPAC front running Bulldogs. With eight goals on the year, Birmingham ranks fifth among GPAC players.
The product of Johnston High School enjoyed one of the top freshman seasons in program history last season. She appeared in all 22 games and tallied 20 goals for the 13th largest total in the nation. A first team all-conference selection in 2016, Birmingham has piled up 28 goals and 14 assists in 37 career collegiate games.
Birmingham and the Bulldogs (10-2-3, 6-0-1 GPAC) will return to action on Wednesday with a short trip to Fremont for a matchup with No. 18 Midland (10-1-2, 4-0-2). Kickoff is set for 5 p.m. CT.
GPAC players of the week in 2017
Oct. 17 – Sami Birmingham
Sept. 19 – Victoria Cera
Sept. 5 – Lindsey Carley
Aug. 29 – Maria Deeter