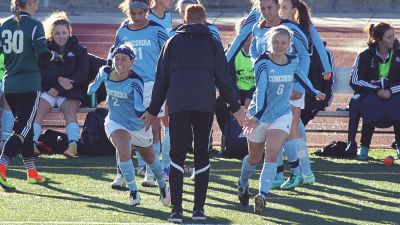 SEWARD, Neb. – For the first time since 2011, the Concordia University women's soccer team suffered a defeat at the hands of GPAC rival Midland. The Warriors outshot the Bulldogs by a count of 21-7 on Wednesday evening on their way to a 3-1 victory that kept them in front of Concordia in the league standings.
Fourth-year head coach Greg Henson's squad fell at home for just the second time this season. The Bulldogs now stand at 7-5-1 overall and 2-3 in conference play.
"Hats off to Midland. They did a nice job of controlling the play," Henson said. "Today they were definitely the better team. We have to continue to work hard and do the things that make us successful. When we did that and got the ball on the floor and kept possession we created some dangerous opportunities. Just not enough to get the win. It's an opportunity for us to learn from our mistakes."
Concordia actually shut out Midland's leading goal scorer, Nayeli Rodriguez, who attempted four shots (two on goal). But the diversified Warrior attack got a goal apiece from Allison Buehring (44'), Kaitlyn D'Arcangeli (62') and Hannah Stewart (78') while building up a 3-0 lead.
On the plus side, freshman Rebekah Freeman has taken advantage of increased minutes over the past two games. She put the Bulldogs on the board in the 81st minute with a goal assisted by Esther Soenksen. Freeman has now scored all of her four goals in her last two contests.
Senior goalkeeper Chrissy Lind faced plenty of challenges on a night when the Warriors put 11 shots on frame. Lind made eight saves. On the other end of the field, Concordia managed only two shots on goal. One of which was delivered by freshman Rachael Bolin.
The Bulldogs played for much of the night without top goal scorer Sami Birmingham, who has tried to play through pain. She came off the bench on Wednesday.
Midland (10-4, 4-2 GPAC) received votes in the national coaches' poll released on Tuesday. The Warriors' lone conference losses have come to the teams currently occupying the top two spots in the GPAC standings – No. 10 Hastings (6-0) and Northwestern (5-0).
The Bulldogs will hit the road on Saturday for a trip to Sioux Center, Iowa, to take on Dordt (6-6-1, 2-3 GPAC) in a contest scheduled to kick off at 1 p.m. CT. Last season Concordia toppled the Defenders, 1-0, in Seward.