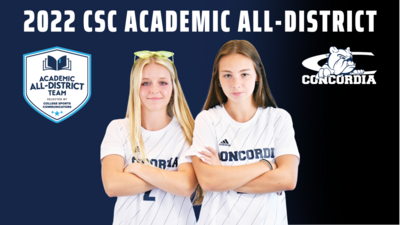 College Sports Communicators Release
SEWARD, Neb. – For their work in the classroom and on the playing field, seniors Allee Downing and Ellie Eason of the Concordia University Women's Soccer program have been honored by College Sports Communicators. The organization named Downing and Eason to its 2022 Academic All-District Women's Soccer Team released on Tuesday (Nov. 15). Both Downing and Eason have received this honor for the first time in their careers.
The 2022 Academic All-District® Men's and Women's Soccer Teams, selected by College Sports Communicators, recognize the nation's top student-athletes for their combined performances on the field and in the classroom. Student-athletes must achieve a cumulative grade point average of 3.5 or higher in order to be nominated for this award. The CSC Academic All-America® program separately recognizes soccer honorees in four divisions — NCAA Division I, NCAA Division II, NCAA Division III and NAIA — for each gender.
A Sioux City, Iowa, native, Downing did not miss a single game during her four collegiate seasons. She appeared in all 74 games and was a key figure for the 2020 squad that won the GPAC tournament title and qualified for the national tournament. Downing has played an outside back role while helping Concordia consistently rank as one of the toughest teams in the GPAC to score upon. Downing notched two goals and two assists in her Bulldog career. She was named Second Team All-GPAC in 2020 and Honorable Mention All-GPAC in 2021 and has been an NAIA Scholar-Athlete while studying Biology.
Eason, who hails from Kirkland, Wash., was named a 2022 Honorable Mention All-GPAC selection. She has been a dependable four-year contributor just like Downing. Also an NAIA Scholar-Athlete, Eason posted a career high four goals (and one assist) in 2022 as a steadying force in the midfield. Eason's role was more about winning the ball and maintaining possession than it was about scoring goals. She played in 71 games during her collegiate career and posted five goals and three assists. Eason was a starter on the '20 GPAC postseason championship team. Eason majors in Environmental Science.
Academic All-District® honorees advance to the CSC Academic All-America® ballot. First-, second- and third-team Academic All-America® honorees will be announced in early December.