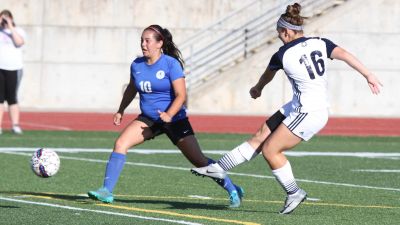 SEWARD, Neb. – Playing at home for the second time in four days, the Concordia University women's soccer team started sluggishly and then got rolling thanks to the spark added by freshman forward Kaitlyn Radebaugh. Superior talent and athleticism won out for the Bulldogs, who defeated visiting York College, 5-1, on Tuesday evening.
Concordia continues to be nearly automatic at home. It has moved to 28-5-1 at Bulldog Stadium since the start of the 2014 season. Fifth-year head coach Greg Henson's squad now sits at 2-0 in 2017.
"It's early in the season so we're still trying to find our identity and focus on the areas we need to in order to be successful throughout the season," Henson said. "Just happy to get off to a good start scoring goals. I'm pleased with where we're at right now, but it's very early and we have a lot bigger things ahead of us."
Radebaugh, who hails from Roca, Neb., has shown an ability to break down the opponent on the attacking end. Her aggression was evident upon her entrance as a substitute in the middle of the first half. She immediately fired off a shot that was saved by the keeper. Just a couple of minutes later Radebaugh celebrated the second goal of her young career.
An unlikely source produced the game's second goal in the waning moments of the first half. Morgan Raska skimmed the turf with a shot that bounded off keeper Cassandra Martinez and scooted over the goal line. A game that featured a 24-8 Concordia shot advantage was all but sealed when senior Jeannelle Condame twisted a corner kick into the back of the net in the 53rd minute.
The floodgates burst open late in the game. The team's top attacker with 20 goals last season, sophomore Sami Birmingham got on the board in the 76th minute with the help of an assist from junior Taylor Roby. Less than three minutes later, freshman Sarah Wuthrich knocked in the first goal of her career.
Roby seized the right back spot with a stellar fall camp. Says Roby, "I think I just came in this year with a new mindset to be mentally tougher and stand my ground. I worked hard this offseason to become the most strong player physically, mentally and everything like that. I just came in and seized my opportunity.
Henson has now used two different starting goalkeepers. Jessica Knedler got the call in the opener versus Avila University. Lindsey Carley then got the nod on Tuesday. It's been a close battle throughout camp between the two keepers, both of whom are in their second years in the program.
Tuesday also saw freshman outside midfielder Michaela Twito earn her first career start. She arrived in Seward after helping lead Ames High School to a state championship. Twito is part of a midfield anchored by junior Deeter, the GPAC offensive player of the week. Freshman Victoria Cera (Las Vegas, Nev.) has staked her claim to the holding mid spot.
Next up is the first road trip of the 2017 season. The Bulldogs will make a trek of roughly eight hours east to the Windy City for a game Friday against host Concordia University, Chicago (2:15 p.m.) and then another contest Saturday versus Concordia University, Wisconsin (9:30 a.m.) in a battle of Concordias. Both CUC and CUW are members of the NCAA Division III Northern Athletics Collegiate Conference.
"We're really excited. It should be a great time," Roby said.