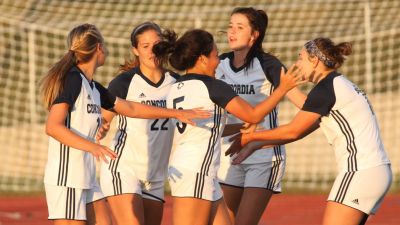 GPAC preseason women's soccer poll
SEWARD, Neb. – Fresh off the program's first ever conference regular-season title, the 2018 Concordia University women's soccer team has been picked by league coaches to finish second in the GPAC behind archrival Hastings. Head coach Greg Henson's squad collected five first-place votes and a total of 133 points in the poll, which was released on Thursday (Aug. 9) by the GPAC.
The expectations have steadily risen each season under Henson's direction. After appearing at No. 3 in the 2017 GPAC preseason poll, Concordia blazed to a 9-0-1 conference mark and reached the GPAC championship game for the fourth year in a row. Led by GPAC Defensive Player of the Year Lindsey Carley, the Bulldogs allowed just one goal during the entirety of conference regular-season action in 2017.
Carley returns this fall along with fellow first team All-GPAC teammates Chelsea Bright and Maria Deeter. A captain for the third year, Deeter topped Concordia with 10 goals and 10 assists last fall while steering the Bulldogs to a 15-2-4 overall mark. Henson has guided the program to at least 14 victories in each of the past four seasons. Concordia will carry a streak of 15 consecutive GPAC regular season games without a loss into the new season.
Henson's staff underwent some changes over the offseason. Former York College athletic director and head soccer coach Chris Luther has joined the staff. Additionally, Adam Lewis has taken over the role of goalkeeper coach while Amy Panayi remains on staff.
The season will officially open up on Saturday, Aug. 25 when the Bulldogs host Tabor College (Kan.) at 2 p.m. CT.
2018 GPAC Preseason Women's Soccer Poll
*First-place votes in parentheses
1. Hastings – 138 (6)
2. Concordia – 133 (5)
3. Midland – 124 (2)
4. Jamestown – 107
5. Northwestern – 92
6. Briar Cliff – 80
7. Morningside – 79
8. Dordt – 76
9. College of Saint Mary – 60
10. Dakota Wesleyan – 45
11. Doane – 35
12. Presentation – 26
13. Mount Marty – 19