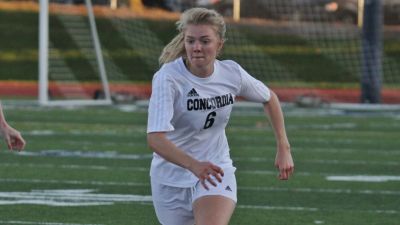 SEWARD, Neb. – Winner of GPAC tournament championships in 2014 and 2016, the Concordia University women's soccer program is set to kick off its 2017 campaign as a team expected to compete for the conference title. The Bulldogs picked up three first-place votes and a total of 84 points and were ranked third in the GPAC preseason coaches' poll released on Monday (Aug. 14).
Fifth-year head coach Greg Henson's program has hummed along at impressive levels over the past three seasons, winning a combined total of 45 games over that stretch. Though Concordia has graduated record-breaking goalkeeper Chrissy Lind, it returns a pair of first team all-conference selections in Sami Birmingham and Maria Deeter. The 2016 Bulldogs tallied 67 goals as one of the most prolific offensive squads in school history.
Officially, Concordia will make its 2017 debut on Saturday, Aug. 26 when Avila University visits Bulldog Stadium. Henson's squad will then close the month of August on the 29th when York College will serve as the opponent in Seward.
2017 GPAC Preseason Women's Soccer Poll
1. Hastings – 98 (8)
2. Midland – 86
3. Concordia – 84 (3)
4. Morningside – 75
5. Northwestern – 66
6. College of Saint Mary – 51
7. Dordt – 39
8. Doane – 36
T9. Briar Cliff – 30
T9. Dakota Wesleyan – 30
11. Mount Marty – 10