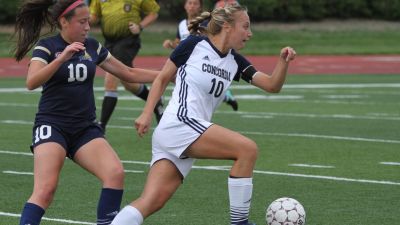 SEWARD, Neb. – Postseason awards continue to mount for junior Maria Deeter, who added another on Friday (Dec. 8), courtesy of the United Soccer Coaches. The organization selected Deeter to its NAIA/NCCAA Women's Scholar All-America Team. A junior from Seward, Deeter sports just under a 4.0 cumulative GPA as a biology major.
Voted the team MVP for the third year in a row, Deeter also picked up first team All-Plains Region recognition from the United Soccer Coaches and was a finalist for the GPAC Offensive Player of the Year honor. She has made back-to-back appearances on the GPAC's first team after collecting second team accolades as a freshman in 2015. Additionally, Deeter garnered NAIA Scholar-Athlete laurels. This season Deeter set career highs for goals (10) and assists (10) while starting all 21 games. Over 63 career games played, Deeter has totaled 23 goals and 21 assists.
Deeter helped lead the Bulldogs to a 15-2-4 overall record as part of their 2017 conference championship run. Greg Henson earned GPAC Coach of the Year honors for his efforts.