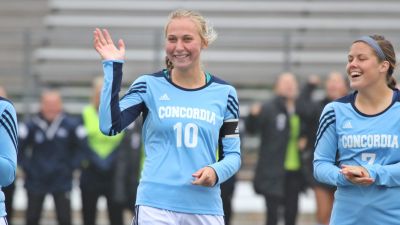 SEWARD, Neb. – A four-goal week that helped the Concordia University women's soccer team to a pair of wins resulted in another honor for senior Maria Deeter. On Tuesday (Oct. 2), the conference named the Seward native the GPAC/Hauff Mid-America Sports Women's Soccer Offensive Player of the Week. This marks the third time Deeter has garnered a GPAC player of the week award during her standout career.
Deeter's efforts are a major reason why the Bulldogs entered this week at 4-0 in conference play and tied for first atop the GPAC standings. She produced last week's most exhilarating highlight when she knocked in the golden goal in the 109th minute of a 3-2 double overtime victory at Morningside on Sept. 26. A Lincoln Lutheran High School product, Deeter now has generated nine multi-goal games in her career as a Bulldog. Her nine goals this season are tied for the most among GPAC players and are one off the career high she set last season.
This is just the latest honor for Deeter, a three-time All-GPAC performer (twice first team, once second team). She's also been named to All-Plains Region and Omaha World-Herald All-Nebraska squads in each of her first three collegiate seasons. Additionally, Deeter is an NAIA Scholar-Athlete whose 32 career goals rank inside the top 10 on the program's all-time list. Since Deeter arrived on campus, the Bulldog women's soccer program has a combined overall record of 51-14-9 with two GPAC championships and a national tournament appearance.
Deeter and her teammates will be back in action on Wednesday (5:30 p.m. CT kickoff) when they will host 18th-ranked Hastings (7-0-1, 4-0 GPAC).