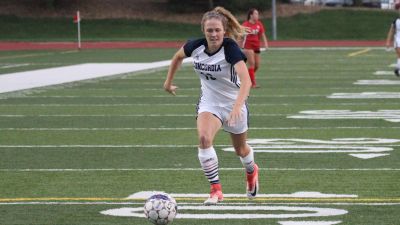 SEWARD, Neb. – After somewhat of an up and down nonconference portion of the schedule, the Concordia University women's soccer team hopes to be hitting its stride now that the first week of GPAC action has arrived. Sixth-year head coach Greg Henson's squad is fresh off a 1-0 win at Friends University (Kan.). The response defensively was a welcome sight after a 4-3 loss to Bellevue University early last week.
This week
Wednesday, Sept. 19 vs. College of Saint Mary (0-6-1, 0-0-1), 7 p.m.
Saturday, Sept. 22 at Northwestern (1-5, 0-0), 7:15 p.m.
The contest on Wednesday will be streamed live on the Concordia Sports Network. Saturday's game can be viewed live via Northwestern's Stretch Internet portal.
Currently ranked fourth in the official GPAC ratings, the Bulldogs (3-1-2) will not have an easy road to a second conference regular-season title in a row. Not only are rivals Hastings and Midland strong again, the league also now features a Jamestown program that finished 14-5-1 overall in 2017. GPAC women's soccer appears as competitive at the top at it ever has been. The four aforementioned squads each received votes (Hastings No. 22, Midland No. 25) in the national poll released last week.
That doesn't mean Concordia has to take a backseat to anyone. The Bulldogs enter this week with a record of 14-0-1 over their last 15 GPAC regular-season games. They went 9-0-1 during conference play in 2017 on their way to the title. Henson's teams have typically found ways to peak at the right time. It's also safe to assume that captain Maria Deeter (27 career goals) will do everything she can to make this a GPAC championship team like the 2014, 2016 and 2017 squads. It seems Concordia is still working on the proper lineup configurations. Henson made adjustments again before the win at Friends.
College of Saint Mary has struggled through the first seven games of its schedule. The Flames dropped an 11-0 decision at Bellevue in their most recent outing. College of Saint Mary has surrendered 41 goals so far this season. First-year head coach Jordan Irsik's squad began GPAC play with a 1-1 double overtime draw at new GPAC member Presentation College (S.D.) on Aug. 28.
Northwestern has typically been a team that has given the Bulldogs fits. Henson coached squads had not defeated the Red Raiders until the GPAC semifinals of last season. Northwestern just earned its first win of the season in a 2-1 overtime victory at York College on Sept. 15. Before hosting Concordia on Saturday, the Red Raiders will welcome Jamestown to Orange City, Iowa, on Wednesday. Northwestern has been outscored by a combined total of 22-6 through its first six games of 2018.
The Bulldogs will also be in action twice next week. They will be at Morningside on Wednesday, Sept. 26 and then hots Dordt on Saturday, Sept. 29.