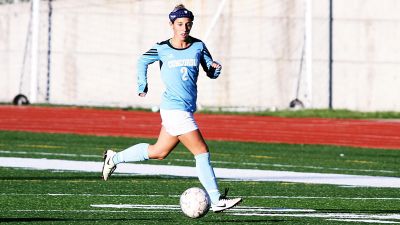 Junior Jeannelle Condame is more than a thousand miles from home. But not for long. Condame and Concordia women's soccer are leaving on a jet plane that will take them somewhere sunny and warm. It's the type of experience that doesn't come around often, sometimes never.
Condame has reason to be especially pumped.
"I was in a piano lesson," Condame said. "My phone just kept going off, going off, going off. My mom called me and my sister called me and everyone was calling me. My best friend Leigha McConnell was texting me like crazy. 'We're going to Florida. We're going to Florida.' When I opened my phone after I got out of my lesson, everyone was like, 'We're going to Florida. Oh my gosh. Are you so excited? You've got to get your family there.'"
Condame's piano lesson occurred on Monday just as the NAIA made the announcement that the GPAC tournament champion Bulldogs were going to be sent to West Palm Beach, Fla., where they will play at third-ranked Keiser University at 12 p.m. CT / 1 p.m. ET in the opening round of the national tournament on Saturday. As the contest kicks off in four days, Condame will be just 176 miles from the front door of her home in Winter Springs.
Named a second team all-conference choice on Monday full of good news, Condame is the lone Florida native on the postseason roster. She arrived at Concordia in the fall of 2014 when her older sister, Annalisa, was a senior and also a member of the soccer team.
Though the Bulldogs will be 1,652 miles southeast of Seward on Saturday, they're counting on having at least a few fans in attendance at Arrigo Vecellio Soccer Field. Head coach Greg Henson jokingly told Condame that it's her responsible to make sure Concordia has a following in West Palm Beach.
On Monday Jeannelle's mother, Kristi Oettl, tagged the Bulldog women's soccer team in a Facebook post that read, "Who wants to go to West Palm Beach to see Concordia and Jeannelle play Keiser in the first round of the NAIA national tournament??"
Said Condame, "I'm sure my friends from church will come. I've been trying to get them all to come so that we can have a fan base. Coach told my mom to get a 12-passenger van and bring some people so we can have some fans."
Condame has done nothing but drive excitement for a team already plenty amped about the idea of being in the Miami area. As Condame rocked the piano on Monday, many of her teammates were gathered in the Walz conference room on campus in anticipation of discovering their national tournament destination. After venturing to Atchison, Kan., for the opening round in 2014, Concordia players are ecstatic about their weekend plans.
No one's more excited for The Sunshine State expedition than Condame. If time and money were limitless, Condame would love to show her teammates around Disney World.
"For sure I wish we could go to the beach," Condame said. "I would love for everyone to go to Disney World, but I feel like it's not possible. It's just my home. I want everyone to know that it's beautiful and sunny. Everyone thinks it's going to be super hot and we're going to die. Yes, it's going to be hot, but it's not crazy, crazy hot. It will be 75 to 80."
Oh yeah, there's a game to be played, too. Condame has the right perspective. She believes she and the rest of the juniors and seniors that were part of the 2014 team have a better idea of what to expect. They want to make a more serious threat at an upset than they did two years ago in the 4-0 loss at No. 9 Benedictine College.
Says Condame, "As Coach said, it's a business trip, not a vacation. We have to go and work hard and try to win, or it almost isn't worth it."