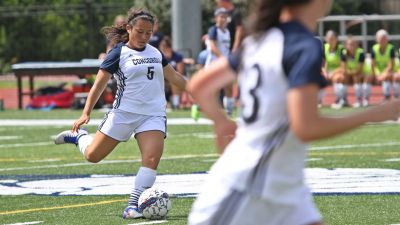 LAMONI, Iowa – The Concordia University women's soccer team made strides while putting behind its performance from three days ago, but ultimately suffered a 2-1 defeat in overtime in a game played at Graceland University in Lamoni, Iowa. The Yellowjackets stung the Bulldogs with Hannah Hiner's golden goal in the 96th minute.
Fifth-year head coach Greg Henson's squad has dropped back-to-back games and now sports an overall record of 3-2-1.
"I thought we really responded well from the 4-1 loss on Wednesday," Henson said. "The question was how were we going to respond as a group. We came out and put pressure on them early. In the second half we stressed getting the ball on the floor and just playing better soccer. The first half was a little bit sloppy. I thought we definitely had the better of the play in the second half. Being able to respond and tie the game was huge for us."
Concordia did not register a shot during the overtime period, but it did put together a significant scare when Sami Birmingham got one-on-one with the Graceland keeper. The Bulldogs didn't get the call they hoped for when contact was made in the box. Then in the 96th minute, Hiner deposited the game winner into the back of the net.
Concordia had hoped to ride the momentum it built when it forced the overtime with a late goal from Jeannelle Condame on a free kick. All three of the game's goals were scored after 80 minutes had elapsed. The Yellowjackets (4-0-1) took a 1-0 lead in the 82nd minute thanks to a goal from Soleya Figueroa.
Still unbeaten, Graceland received votes in this week's NAIA coaches' poll. The Yellowjackets were able to fend off the Bulldogs despite being outshot, 12-2, in the second half and 18-10 for the game. In goal, GPAC defensive player of the week Lindsey Carley made three saves in nearly 96 minutes of action.
On the attack, junior Maria Deeter was most active with four shots, including one on goal. Senior Esther Soenksen returned to the lineup and put three shots on frame, though all three were denied by Manaia Siania Unutoa. Henson also made note of the good work produced by freshmen Victoria Cera and Michaela Twito.
Concordia hopes to build upon its second half performance next time out when it travels to Waldorf University for a 1 p.m. kickoff on Wednesday (Sept. 13). The Bulldogs will be back at home on Sept. 16 to host Kansas Wesleyan University.