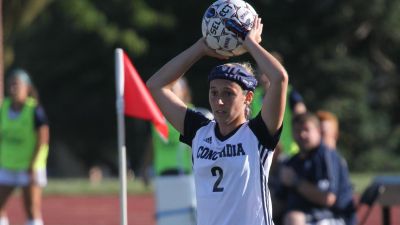 SEWARD, Neb. – The Concordia University women's soccer team hopes to look more like the team that blazed through its first three games than the one that dropped back-to-back games last week. However, there were positive signs over the weekend at Graceland University, where the Bulldogs put together a solid second half. Fifth-year head coach Greg Henson's squad enters the week at 3-2-1 overall.
This week's schedule
Wednesday, Sept. 13 at Waldorf University, 1 p.m. CT
Saturday, Sept. 16 vs. Kansas Wesleyan University, 1 p.m. CT
Concordia aspires to get back to finishing its chances on the attack. It found the back of the net 14 times during the season's first three games. Since then, the Bulldogs have put up 44 shots but have scored only a pair of goals. In last week's action, Concordia goals were produced by Lauren Martin and Jeannelle Condame. Maria Deeter remains the team leader with four goals on the year. In goal, Henson has split time evenly between Lindsey Carley and Jessica Knedler.
Last week Bellevue handed the Bulldogs just their second nonconference home loss since the beginning of the 2014 season. In that timeframe, Concordia has gone 28-6-1 at home and 48-16-7 overall with two GPAC tournament titles and two national tournament appearances. The Bulldogs will be back at home Saturday following Wednesday's road trip to Forest City, Iowa.
Waldorf belongs to the North Star Athletic Association. The Warriors are 1-6 with their lone victory coming by forfeit. They have been outscored by a combined total of 20-1 this season and are 0-4 against GPAC opponents. On the other hand, Kansas Wesleyan is 0-3 against a challenging schedule. The Coyotes were ranked 20th in the NAIA preseason poll following a 2016 campaign that saw them go 16-3-3 overall and 10-1 within the Kansas Collegiate Athletic Conference.
This week's action will lead into the start of conference play on Sept. 23 when Dakota Wesleyan will host the Bulldogs in Mitchell, S.D.