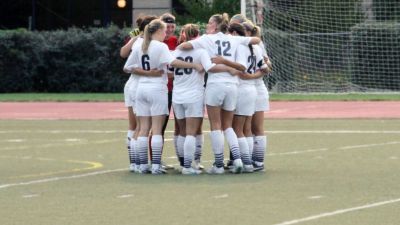 SEWARD, Neb. – The Concordia women's soccer team has announced its 2016 schedule. The season will begin with a road trip to Kansas City to face MidAmerica Nazarene University and Avila University. The slate includes 10 home tilts.
Head coach Greg Henson said, "Our nonconference schedule keeps getting tougher every year. We're increasing the competition level as our team and program improves. We have a tough opener heading to Kansas City to play Avila and then MidAmerica Nazarene, a top contender in the HAAC."
Familiar non-conference opponents, York and Bellevue pop up on the Bulldogs' schedule. Last season, Concordia defeated then 16th-ranked Bellevue, 2-1 and topped York twice, 7-0 and 5-1. Bellevue received votes in the NAIA Coaches' Post-Season Poll.
"In September we're here at home most of the month so we're excited about that," Henson said. "We have some opponents coming in that we haven't played in my time here like Bethany out of the KCAC and Graceland. We're excited to get both of them on the schedule. I think it will be a more challenging schedule this fall for us that it was the last couple years."
The slate features 10 GPAC competitions. On Sept. 24, the 'Dogs will begin conference play by hosting Northwestern College. A rematch of the 2015 GPAC Championship match between Concordia and Morningside will take place on Oct. 1 in Sioux City, Iowa. Morningside was receiving votes in the latest NAIA Coaches' Poll. The Bulldogs will face the only GPAC squad that is currently ranked, No. 18 Hastings, on Sept. 28 on the Broncos' home turf. A road trip to Dakota Wesleyan will conclude the regular season on Oct. 29. Shortly after on Nov. 1 the GPAC Tournament will open with the championship game taking place on Nov. 10.
The women's soccer team returns five All-GPAC student athletes next season, second teamers Maria Deeter, Ashley Martin and Chrissy Lind and honorable mention recipients Jeanelle Condame and Jessica Skerston. Deeter was received recognition from the National Soccer Coaches Association of America and was placed on the second team in its 2015 NSCAA NAIA All- Plains Region list.