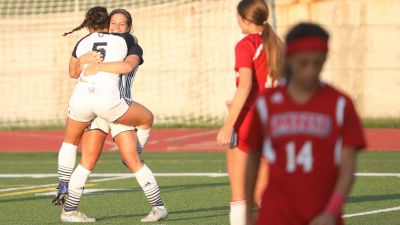 SEWARD, Neb. – For the second-straight meeting between the Concordia University women's soccer team and MidAmerica Nazarene University (Kan.), the two sides played to a 110-minute draw. In Wednesday night (Aug. 29)'s rematch of a 2016 contest, the result was a 1-1 tie. The Bulldogs were unable to make a 26th-minute goal stand up.
Sixth-year head coach Greg Henson's squad now stands at 1-0-1 on the young season. Concordia has played both of the season's first two matches inside Bulldog Stadium. Four days earlier the Bulldogs earned a 4-1 win over Tabor College (Kan.).
"I was really happy with the effort, the energy and the sense of urgency we brought to the game tonight," Henson said. "It was something I thought we were lacking on Saturday, even though we got the result. We knew MNU would come in and be a tough test for us early in the season. They're a quality program. The last time we played them we were kind of fortunate to steal a tie from them at their place. We got off to a good start and really settled in quickly."
Roughly two-and-a-half minutes into the first overtime, Concordia came close to sneaking in the golden goal off a corner kick. Lauren Martin struck the ball into the eight-yard box where the goalkeeper appeared to get on hand on it. It caromed to Victoria Cera whose shot was deflected just shy of the goal line.
It was Cera's goal, described by Henson as a "great individual effort," that staked the Bulldogs to a 1-0 lead at halftime. Maria Garcia emerged with the equalizer for the Pioneers (0-0-1) in the 57th minute. MidAmerica Nazarene took advantage of a misplay that occurred after a goal kick.
"We came back well from there and really settled back in and continued to be on the front foot," Henson said. "We put the pressure on them. We had a couple close chances both ways in the second half that could have gone in. It was a very evenly played game between two very good teams."
Lauren Martin assisted Cera's goal. It marked Martin's fourth assist already this season. In goal, Lindsey Carley played all 110 minutes.
Henson saw this outing as a step forward as compared to the season opener. Said Henson, "As a coaching staff coming out of the game on Saturday, even though we got the result against Tabor, we weren't pleased or satisfied with the way we played that game. This was a great answer for us. We get a little time off now to regroup for the next challenge."
MidAmerica Nazarene is coming off a 9-7-2 overall record in 2017. The Pioneers and Bulldogs played to a 2-2 draw back in late August of 2016 in the most recent meeting between the two programs.
Concordia will now have the weekend off. It will next play inside Bulldog Stadium next Wednesday (Sept. 5) with McPherson College (Kan.) (0-1) serving as the opponent.