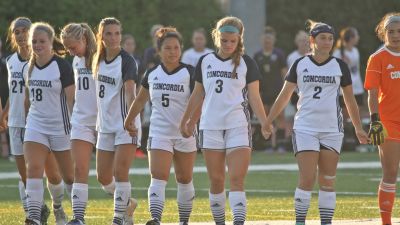 SEWARD, Neb. – A new season is about to get started for the Concordia University women's soccer team, which last week ended nonconference regular season action with a 2-2 draw against fellow 2016 NAIA national tournament qualifier Kansas Wesleyan University. Winner of GPAC tournament titles in 2014 and 2016, the Bulldogs (4-2-2) have high hopes despite a pair of slipups and two ties during the non-league schedule. They will be at Dakota Wesleyan at 4 p.m. CT on Saturday for their GPAC opener.
Concordia rebounded last week after enduring back-to-back defeats the previous week. Freshman Victoria Cera burst onto the scene with a hat trick while spurring a 7-1 win at Waldorf University on Sept. 13. That performance helped the Las Vegas, Nev., native earn GPAC offensive player of the week honors, making her the third different Bulldog to collect a conference weekly award in 2017. Cera now stands just one goal off the team lead shared by Sami Birmingham, Maria Deeter and Kaitlyn Radebaugh with four apiece.
During nonconference action, head coach Greg Henson's squad outscored its opponents by a combined total of 25-11. It also outshot their foes, 157-80. The Bulldogs enter GPAC play ranked as the No. 4 team in the conference, according to the official rankings released by the NAIA. Under Henson, the program's highest regular season placement was second in 2014. Concordia was picked third while garnering three first-place votes in the conference's preseason coaches' poll.
Dakota Wesleyan has been a difficult team to get a handle on. During last week's action, the Tigers (5-2) dropped a 4-1 decision to Presentation College, a squad with a 2-8 overall record. Just five days later, Dakota Wesleyan edged the University of Jamestown, a team that continues to receive votes in the NAIA national poll. Though the Tigers have finished near the bottom of the conference the past two seasons, they have managed to give the Bulldogs some serious challenges. Concordia defeated DWU in double overtime in 2015 and then had to come back last season to claim a 4-1 win in Mitchell.
Saturday's game can be seen live via Dakota Wesleyan's Stretch Internet portal.
Next week will offer up two more dates with GPAC challengers. The Bulldogs will host Mount Marty (2-3) at 5:30 p.m. CT on Sept. 26 before welcoming College of Saint Mary (2-5) to Bulldogs Stadium for a 1 p.m. CT kickoff on Sept. 30.