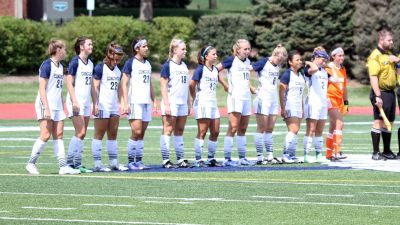 SEWARD, Neb. – Regular season action is set to heat up this week for the Concordia University women's soccer team. The Bulldogs opened the 2017 season impressively, rolling to a 5-1 win over Avila University on Aug. 26. This week's slate includes a home game with York College on Tuesday (Aug. 29) and then a weekend trip to the campus of Concordia University, Chicago for a pair of games against fellow Concordia institutions.
This week's schedule
Tuesday, Aug. 29 vs. York College, 5:30 p.m.
Friday, Sept. 1 at Concordia-Chicago, 2:15 p.m.
Saturday, Sept. 2 vs. Concordia-Wisconsin, 9:30 a.m.
Fifth-year head coach Greg Henson's program looked the part of a GPAC contender in its first outing. Junior captain Maria Deeter recorded her first career hat trick and added an assist as part a big performance from the Seward native. In addition, senior Esther Soenksen added a goal and freshman Kaitlyn Radebaugh, a Roca, Neb., native, notched the first goal of her career. Picked third in the GPAC preseason coaches' poll, the Bulldogs outshot Avila, 26-6. The win pushed Concordia's home record to 27-5-1 since the start of the 2014 campaign.
York is simply looking for improvement after going 1-16 last season. CUNE defeated the Panthers, 6-0, in 2016. York opened this season with a 2-1 overtime loss at Dakota Wesleyan. The weekend will bring consecutive games against NCAA Division III Northern Athletics Collegiate Conference foes: Concordia-Chicago (10-8-2 in 2016) and Concordia-Wisconsin (5-11-1 in 2016). In the NACC preseason coaches poll, CUW checked in at No. 5 and CUC landed at No. 7 in the 10-team league.
All Bulldog home games can be streamed live via the Concordia Sports Network. For live coverage of this weekend's matches in River Forest, Ill., check out CUC's athletics website.
Upon its return from the Chicago area, CUNE will host Bellevue University on Wednesday, Sept. 6. Three days later the Bulldogs are scheduled to make a road trip to Lamoni, Iowa, and square off with Graceland University.