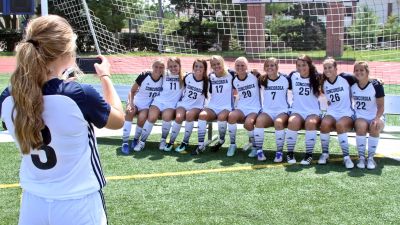 It doesn't matter the competition, whether it be the program's annual bowling tournament, a kickball game in practice or an official collegiate match, members of the Concordia University women's soccer team love to compete. It's obvious that head coach Greg Henson is pleased with the culture that has permeated the program. Even after winning the 2017 GPAC regular-season title, these Bulldogs want more.
A squad led by captain Maria Deeter, a three-year star, returned to the practice fields immediately following spring break and trained well into April as part of preparation for a promising 2018 campaign. There's no sense of complacency after adding to the trophy case this past fall.
"We've gotten to the top (of the conference) in recent years," Henson said. "I've always said that getting to the top is a lot easier than staying at the top. We know there is some pressure on us. Teams that may have looked past us before, don't any longer. As far as our culture, there's such a competitive fire amongst our players. Sometimes it can get a little too competitive in some of the non-soccer activities that we do, but it's something that really serves us well."
Considering such characteristics of this program, it's safe to say that the PK shootout loss that ended the 2017 season in the GPAC championship game doesn't sit well. For the first time since then, Concordia returned to game action this spring with contests against opponents from the NCAA Division II and III and junior college levels, in addition to the alumni match. Due to the wealth of talent back from last year's championship team, no sweeping changes needed to be implemented in the spring.
It's been more about fine tuning in order to maximize the talents on board and the ones that will be joining the squad in August. Henson focused in on strengthening specific areas of his team throughout the spring.
"Going into the spring we definitely had some things we wanted to improve upon," Henson said. "One of them was maintaining possession and building from the back. We also wanted to re-identify ourselves on the attack in the final third. Those were the three segments we worked through this spring and I thought our players did a great job of understanding the goals and accomplishing them. I think every game we played we got better as a team. In spring ball you're not worried about results. It's more about the process."
One newsworthy item that came out of the spring was the appointment of senior-to-be Taylor Roby and sophomore-to-be Chelsea Bright as captains alongside Deeter, who enters her third year with the title. Henson believes strongly in the ability of Deeter and Roby to mentor Bright in her new role. The idea is that Bright, a developing standout center back, will grab more of the spotlight when Deeter graduates.
Henson, the 2017 GPAC coach of the year, will return seven of eight players who earned some form of All-GPAC accolades in the fall. The group includes GPAC Defensive Player of the Year Lindsey Carley, who is fresh off a stellar first year as a starting goalkeeper. Despite having no competition at keeper this spring, Carley kept her foot on the gas pedal while getting lots of one-on-one time with goalkeeper coach Dan Ball.
"Lindsey had a good spring working with Dan," Henson said. "She showed continued progression in her development. Coming off the fall she had, she definitely could have sat back and said, 'There are no other goalkeepers on the roster, say look what I've done and not work hard.' That wasn't the case. She continues to strive to get better. There are a couple freshmen coming in this fall that will challenge her."
It may be hard to believe it, but this is it for Deeter, who may be the most competitive individual on a team driven to succeed. Essentially, Henson is simply asking the Seward native and Lincoln Lutheran product not to try to do too much. As Henson reasons, the talent that surrounds her will give her the ability to simply perform her task as one of 11. Said Henson, "We want her just to focus on her job and if she can do that, she can potentially have an even bigger breakout year than she had last year. She needs to settle in her role and not try to do three or four people's roles."
So who can fill those roles? Well, even without the outgoing seniors and the incoming freshmen, the team that showed up this spring had the look of another strong contender atop the GPAC. While Bright, Carley and Deeter earned the highest accolades last season, Lauren Martin and Kaitlyn Radebaugh landed on the GPAC's second team. Plus, sophomores-to-be such as Tori Cera and Michaela Twito have opportunities to ultimately be four-year starters.
Next year's senior class will be large in number with plenty of contributors other than Deeter and Roby. The group will feature others such as Kaylee Brown, the Martin twins and Michaela Stevens. Henson also mentioned junior-to-be Morgan Raska as someone who impressed in the spring. Additionally, Becky Freeman has a shot at grabbing more playing time. There's clearly a healthy competition for starring roles.
Really, everything seems to turn into competition for this team. While Henson joked that he would not be worried about losing any players should Concordia suddenly add a bowling team, no one wants to go down in the record books as having the lowest score at the program's annual bowling event. That distinction is still held by Brown.
Joked Lauren Martin, "No one wants to be the worst player. It's almost like a sense of pride in your overall athleticism. No one wants to be the worst one because Coach will make fun of you. It's just never good."
It's never good recalling the feeling that washed over Bulldog Stadium at the end of the night of Nov. 10. Said Lauren Martin, "I would say that's our main motivator. It stings more than anything that we can win the conference outright and then have it end on PK's. We had a very successful season, but we didn't accomplish all the things we wanted to. We're going to work really hard so it doesn't come down to that next year."
Report date for fall camp will be Aug. 9. That's when things will ramp back up for a squad that is likely to again have championship aspirations.
Said Henson, "I've probably said this every year at this time, but I think next year's team, on paper, will be the best we've had since I've been here. What you see on paper means nothing. We have to get it done again on the field this fall."