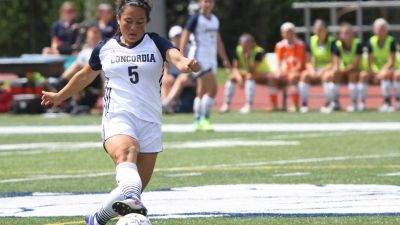 FOREST CITY, Iowa – After scoring only twice over its previous three outings, the Concordia University women's soccer team cut loose its pent up frustrations. Freshman Victoria Cera recorded the second hat trick this season by a Bulldog, leading her squad to a 7-1 blowout win over Waldorf University in Forest City, Iowa, on Wednesday afternoon.
The dominant victory put an end to a three-game winless streak for fifth-year head coach Greg Henson's squad. Concordia has improved to 4-2-1 with one nonconference game remaining on the schedule.
"It was just a matter of us being patient in the attack today," Henson said. "They came out with a strategy to sit in and defend and keep 10 behind the ball at all times. We just need to be patient and move the ball a little bit quicker. We were able to get forward and finish some of our opportunities. I'm really pleased with the response we had to adversity over the last few games. That's going to serve us well moving forward."
Cera, a native of Las Vegas, Nev., has been a starter in every game this season as a freshman. But she waited until Wednesday to knock in the first goals of her career. As part of a career day, the holding midfielder found the back of the net in the 17th, 52nd and 56th minutes. Five of the team's seven goals were notched by rookies. Sarah Wuthrich put up her second career goal in the 41st minute and Kaitlyn Radebaugh broke free for the game's final goal – in the 78th minute.
Sophomore Sami Birmingham (25') and senior Esther Soenksen (51') also turned in a goal apiece. Assists were credited to Birmingham, Jennika Chapman, Cera, Maria Deeter, Lauren Martin (two) and Leigha McConnell. Cera's hat trick matched the feat accomplished by Deeter in the season opening win over Avila University.
"Tori Cera had a tremendous game for us obviously," Henson said. "The big thing for us is that we were able to get a lot of players in and there was really no drop off when we went to the bench. The reserves did well. Those are the things we need moving forward to be successful. I was really encouraged by that."
Concordia dominated the host Warriors (1-7) in all facets of the game. The Bulldogs held advantages of 26-5 in shots, 21-5 in shots on goal and 5-0 in corner kicks. Lindsey Carley and Jessica Knedler both played 45 minutes in goal, combining for four saves. The foe from northern Iowa got its lone goal from Amairani Zuniga just after halftime.
The result at Waldorf was exactly what the Bulldogs needed after enduring back-to-back losses last week (Bellevue University and Graceland University). They have now outscored their opponents by a combined total of 23-9 in 2017.
For the fourth time this season, the Bulldogs will entertain the home fans when action kicks off on Saturday from Bulldog Stadium. Concordia and Kansas Wesleyan University (0-3) will go head-to-head at 1 p.m. CT. The Bulldogs and Coyotes last met in 2011 with the result being a 3-1 KWU win.