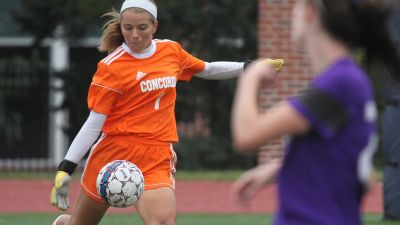 SEWARD, Neb. – Already named a GPAC weekly honoree Tuesday (Oct. 24) morning, sophomore Lindsey Carley rose to the status of NAIA National Women's Soccer Defensive Player of the Week in the afternoon. A Concordia women's soccer player has now garnered a GPAC weekly award for the fifth time this fall. Carley reeled in the same conference defensive player of the week accolade on Sept. 5. Teammates Sami Birmingham, Victoria Cera and Maria Deeter have each been named a GPAC player of the week once in 2017.
An Urbandale, Iowa, native, Carley is believed to be the first national player of the week in program history. Carley and the Bulldogs are on an incredible run in terms of keeping opponents off the scorebcoard. Still in first place in the GPAC, Concordia has surrendered just one goal through the first nine games of conference play. While earning a pair of shutouts last week, Carley made a combined 10 saves while holding down the goalkeeper spot for all 180 minutes. One of last week's shutouts came over No. 18 Midland in a 1-0 upset victory.
Carley ranks 10th nationally in goals against average (0.500). She was honored as the Bulldog Athletic Association Athlete of the Month for September. On the season, she has made 51 saves and has a .895 save percentage. She has allowed just six goals in more than 1,000 minutes of play.
Concordia (12-2-3, 8-0-1 GPAC) will host No. 20 Hastings (13-1-2, 7-0-1 GPAC) at 5:30 p.m. CT on Wednesday. The Bulldogs would clinch the GPAC regular-season title outright with a win. The conference tournament is set to begin with the quarterfinals on Thursday, Nov. 2.
GPAC players of the week in 2017
Oct. 24 – *Lindsey Carley
Oct. 17 – Sami Birmingham
Sept. 19 – Victoria Cera
Sept. 5 – Lindsey Carley
Aug. 29 – Maria Deeter
*NAIA National Defensive Player of the Week