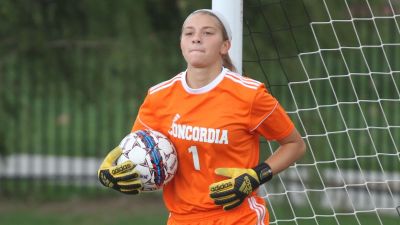 SEWARD, Neb. – For the second week in a row and for the third time in 2017, sophomore Lindsey Carley has been named the GPAC/Hauff Mid-America Sports Women's Soccer Defensive Player of the Week, as announced on Tuesday (Oct. 31) by the league. This marks the sixth GPAC weekly award pulled in by the conference regular-season champion Concordia women's soccer program this fall. Other winners were Sami Birmingham (Oct. 17), Victoria Cera (Sept. 19) and Maria Deeter (Aug. 29).
Last week Carley and company recorded their ninth shutout during conference play. The native of Urbandale, Iowa, made six saves in a 1-0 victory over No. 20 Hastings on Oct. 25. The win put the Bulldogs at 9-0-1 in the GPAC and wrapped up the program's first-ever conference regular-season championship. Carley also recorded 10 combined saves the previous week and was named the NAIA National Defensive Player of the Week.
As a team, Concordia ranks 18th nationally in terms of fewest goals allowed per game (0.67). Having been credited with six shutouts this season, Carley has moved up to eighth nationally in goals against average (0.460). Her save percentage stands at .905. Carley has now started 13 of the team's 18 games.
The top-seeded Bulldogs (13-2-3, 9-0-1 GPAC) are getting set to host eighth-seeded Morningside (8-9, 4-6 GPAC) at 7 p.m. on Thursday in the GPAC tournament quarterfinals. The winner will play again next Tuesday (Nov. 7) in the semifinals.
GPAC players of the week in 2017
Oct. 31 – Lindsey Carley
Oct. 24 – *Lindsey Carley
Oct. 17 – Sami Birmingham
Sept. 19 – Victoria Cera
Sept. 5 – Lindsey Carley
Aug. 29 – Maria Deeter
*NAIA National Defensive Player of the Week