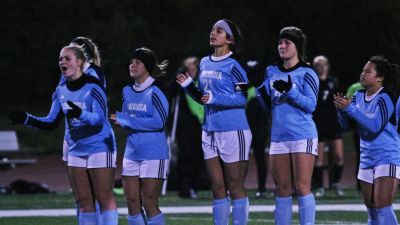 SEWARD, Neb. – While making its annual march to the GPAC title game, the Concordia University women's soccer team provided a large Bulldog Stadium crowd with plenty of drama on Friday (Nov. 10). The only guarantee after 110 minutes of soccer was that one side was about to experience jubilation while the other slumped in agony. Seward became heartbreak city when second-seeded Hastings spoiled the party by taking the penalty kick shootout, 3-2, following a 0-0 draw.
This is likely the end of the line for fifth-year head coach Greg Henson's 21st-ranked squad. Outright GPAC regular-season champions, the Bulldogs are now 15-2-4 after Friday's contest officially goes in the books as a tie.
When the pain of Friday's cruel ending subsides, the many accomplishments of the 2017 Concordia women's soccer team will be placed in their proper perspective.
"Game in and game out there's never been a doubt in my mind that they're going to go out and play hard and do all the little things that are necessary for us to be successful," Henson said. "It's been that way all year. I'm just really proud of their efforts throughout the game tonight, but really just throughout the season. We went completely through the regular season and postseason without losing a game and giving up three goals. It's remarkable."
In so many ways, Friday's game was an evenly matched battle between the league's two best teams. Hastings held a slight 16-15 shot advantage. It forced Bulldog goalkeeper Lindsey Carley to make nine saves to preserve the shutout. There were a number of close calls on both attacking ends. Right around the 70th minute mark, Concordia's Lauren Martin drilled the crossbar and the ensuing rebound was headed into the keeper's arms by Esther Soenksen. The Broncos also had a double overtime shot pepper the right post.
That meant a winner had to be decided in a shootout. The Bulldogs gained the upper hand when Maria Deeter and Sami Birmingham both converted their PK's and Carley stopped an attempt by Emmy Henely. Concordia then failed on its final three PK's and Hastings and goalkeeping hero Emma Toohey celebrated on a bitingly cold Nebraska night. The Broncos proceeded to rattle the victory bell, an act that likely won't be forgotten when the two rivals meet up in future seasons.
While staring a rough beat in the face, the Bulldogs can take pride in the special nature of what they have built. The seniors will leave behind an impressive legacy. Over four years, they have combined to go 60-16-10 with four conference championship game appearances, two GPAC tournament titles, two national tournament berths and one conference regular-season championship.
"I'm extremely proud of our senior class and those five that have had an unbelievable four-year career," Henson said. "They're 9-1-2 in playoff games and that's unheard of. I'm grateful that they came in and they believed in the vision I had for the program. They came in before we really had any success and have been the heart and soul of this program. They'll be dearly missed. You can't say enough about what they've accomplished. They made it such an easy job to coach."
Concordia had been aiming to become the first GPAC women's soccer program to sweep conference regular season and postseason titles since 2011. The Bulldogs still have not been beaten by a GPAC opponent since Oct. 12, 2016.
The national tournament qualifying field will be announced by the NAIA on Monday (Nov. 13). The harsh reality is that the loser of Friday's title game was unlikely to pull in an at-large national tournament berth.
GPAC Championship Game History
2017 – Concordia 0, Hastings 0 (HC wins PK shootout)
2016 – Concordia 3, Morningside 1
2015 – Morningside 2, Concordia 1
2014 – Concordia 1, Hastings 0