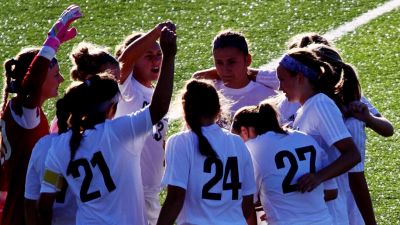 SEWARD, Neb. – No more significant soccer game has ever taken place inside Bulldog Stadium and members of the Concordia University women's soccer team couldn't be any more excited. Says senior captain Jordan McCoy, "We were watching the Hastings-Morningside (semifinal) game (on Saturday) at my house and we were jumping on the couches. It was almost as exciting as when we beat Midland. Yeah, we're stoked."
On Saturday (Nov. 5) the higher-seeded teams failed to hold serve on their home fields, turning the GPAC tournament upside down. Concordia's 1-0 overtime victory at Midland, coupled with Morningside's 1-0 upset at top-seeded Hastings, has given the Bulldogs the right to host the GPAC tournament championship game for the first time in program history. Thursday's title game will kick off inside Bulldog at 7 p.m. CT.
"We've done our part to get there and earn that right to play in front of the home fans on Thursday night," Henson said at Tuesday's Bulldog Athletic Association gathering. "Morningside is a good team. We haven't won anything. All we've done is earn the right to play at home. We look forward to the challenge."
McCoy and company realize there's another game to be played, but it's hard not to step back and marvel at the program's recent postseason success stories. This will be the third-straight GPAC championship game appearance for Henson's program, which stunned Hastings in the 2014 title contest.
Concordia women's soccer has risen to a level of postseason excellence that begs for people to pay attention.
"I've gotten a lot of text message and social media stuff. Everyone's commenting on things," said senior goalkeeper Chrissy Lind. "My statuses get a lot more 'likes' than they normally do. Everybody's just sharing stuff online. People have been saying congrats on the win."
The Bulldogs will not be the only team familiar with the feel of a conference championship game when play gets underway on Thursday. Morningside has been to three of the past four GPAC title games and broke Concordia's heart by putting away the game-winning goal in the final minute of the 2015 championship in Sioux City, Iowa.
The Bulldogs haven't forgotten. Henson even played a clip of that goal this week to remind them of how that moment felt. It's not something anyone wants to relive on Thursday.
"That was a big lesson for us," McCoy said. "We need to make sure the freshmen understand how big of a deal that was. We can't just expect that we're at nationals already. It's going to be a tough game. We need to be prepared."
Concordia and Morningside met in the regular season on Oct. 1 when the Bulldogs came away with a 2-1 victory in Sioux City. That outing helped spark Concordia to go on a stretch of nine wins in 10 contests leading up to Thursday's big game. The loss during that timeframe came against Midland, but the Bulldogs avenged that defeat in last week's semifinal affair.
So much is on the line Thursday. A second GPAC title in three years. Another trip to nationals. A program single-season record-tying 15th win. An extension of a school record seven-game win streak.
But when 7 p.m. Thursday arrives, Concordia will try to block all of that out.
"I don't think it could ever get old," Lind said of playing for a GPAC championship. "I try not to think about it too much during the game. You try to treat it like a normal game. Once it's over, it's just incredible. There's so much adrenaline. Everyone's pumped."
The time to celebrate the opportunity to host a championship game ended when a new week came about. Now it's back to business.
"We were like, 'OK, we can celebrate,' but now it's a new week," McCoy said. "We need to buckle down and focus on what we need to, to win. I think we're focused now."
FREE HOT DOGS AND T-SHIRTS FOR STUDENTS: Free championship T-shirts will be given out to the first 100 students that arrive at Bulldog Stadium for Thursday's game, which has been declared a white out. In addition, students who present their Concordia IDs can get free hot dogs between 6:45 – 8 p.m. The grill will be located by the victory bell beyond the north goal.
WATCH LIVE: Thursday's game will be carried live on the Concordia Sports Network. Frank Greene will call the action.
Concordia: 14-5-1, 7-3 GPAC (3rd)
Head coach: Greg Henson (51-23-9, 4th season)
Goals scored/game: 3.20 (3rd in GPAC)
Goals allowed/game: 0.85 (2nd in GPAC)
Top goal scorer: Sami Birmingham (18 goals)
Goalkeeper: Chrissy Lind (.915 GAA, .837 save percentage, 87 saves, 6 shutouts)
Road to final: Defeated 6th-seeded Briar Cliff, 5-1, in the quarterfinals and 2nd-seeded Midland, 1-0 (OT), in the semifinals.
Morningside: 10-7-2, 6-3-1 GPAC (4th)
Head coach: Tom Maxon (167-148-23, 17th season)
Goals scored/game: 1.47 (8th in GPAC)
Goals allowed/game: 1.32 (4th in GPAC)
Top goal scorer: Amy Grause (12 goals)
Goalkeeper: Niccole McGuire (1.325 GAA, .756 save percentage, 68 saves, 6 shutouts)
Road to final: Advanced past 5th-seeded Northwestern by winning the PK shootout that followed a 0-0 double overtime draw in the quarterfinals and defeated top-seeded Hastings, 1-0, in the semifinals.