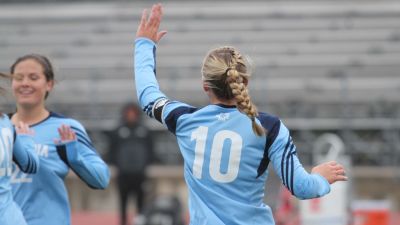 SEWARD, Neb. – A pair of first half goals produced by senior Maria Deeter staked the Concordia University women's soccer team to a lead it would not relinquish. The GPAC unbeaten streak continued via a 3-2 victory over visiting Dordt on a crisp and misty Saturday afternoon (Sept. 29) at Bulldog Stadium.
The latest win became a little more tense than sixth-year head coach Greg Henson would have liked, but the Bulldogs were successful in pushing their unbeaten run in GPAC regular-season play to 19 (18-0-1). They are 7-1-2 overall and 4-0 in conference action.
"I thought we really came out and controlled play," Henson said. "I thought we did a nice job of controlling possession and getting players in behind for goal scoring opportunities. We got two on the board in the first half and were feeling good about where we were at. At this time of year, all we're looking for is a win and three points in the conference standings."
It's no surprise that Deeter has made her presence felt in conference play. She seems determined to will her team to victory, if that's what it takes, on any given day out. Three days after knocking in the golden goal at Morningside, Deeter burned Dordt (4-6, 2-2 GPAC) by finding the back of the net in the 14th and 30th minutes.
The first goal typifies Deeter's hard-nosed style. Lauren Martin's corner kick sent her flying towards the goal. Deeter headed the ball into the goal and then went crashing into the back of the net. By day's end, Deeter's season goal count stood at nine, one off a career high she set last season.
"In soccer, it's a weird game," Deeter said. "Sometimes the ball bounces your way. Once you get one it's all about confidence. You see one go in, you see another go in. It's just kind of a ripple effect. We've been playing really well, moving the ball. Offensively, I think we've all been clicking."
A big part of that offensive attack is Martin, one of the NAIA's leaders in assists. She earned her 12th assist on Deeter's first goal and then boosted the Bulldogs to a commanding 3-0 lead with a goal in the 49th minute. It was a stellar effort in which Martin dribbled by two defenders and then poked the ball over a drawn-out keeper.
Brynn Suddeth chipped in with a pair of assists while collaborating on a victory that had many contributors. Henson continues to make tweaks to a lineup that included Kaylee Brown and Mikeila Martinez in Saturday's starting 11. Now is about the right time to figure things out with Concordia currently sitting tied for first along with Briar Cliff and Hastings in the GPAC standings.
"We made a couple changes in the lineup for today," Henson said. "I thought the group that started the match did very well and jelled well together. The real positive was our ability to get back into a possession style of play. We've gotten away from that the last couple of games. I thought we did a nice job of getting back to it today."
A highly anticipated showdown looms on Wednesday night (Oct. 3) when No. 18 Hastings (7-0-1, 4-0 GPAC) makes its way to Bulldog Stadium. The two programs met in Seward in the 2017 GPAC championship game with the result being a Broncos penalty kick shootout victory. Since the start of the 2014 campaign, the Bulldogs are officially 3-2-2 against Hastings.
"Hastings is a great team and a great program," Deeter said. "You can't deny that. I think we've always played them tough and I expect nothing less. I know we're going to be locked in. A lot of us have been looking forward to this game for a while now. We have to play our game and not get caught up in the moment."