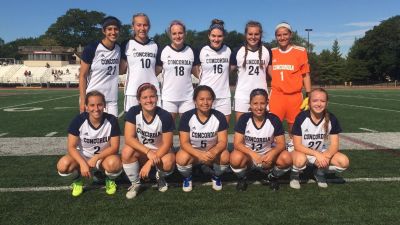 RIVER FOREST, Ill. – After blowing past its first three opponents, the Bulldog women's soccer team found itself in a tight battle on the second and final day of a weekend stay in Chicago. While playing on the campus of Concordia University, Chicago, CUNE settled for a 1-1 draw with Concordia University, Wisconsin on Saturday morning. No overtime periods were played.
Fifth-year head coach Greg Henson's squad remains unbeaten at 3-0-1. The Bulldogs have lost only once over their last 13 games. CUNE entered the weekend expecting to come home at 4-0, but the improved Falcons made life difficult.
"We talked about it at halftime. It was the first time we faced some adversity this year," Henson said. "It was a good test for us. It was a grind out type of game. Lindsey Carley had a nice match in goal for us. It's good to get back-to-back shutouts. We rested a few players so it was good to see our depth prove very useful. There wasn't a whole lot of drop off going to the bench."
Henson continues to rotate goalkeepers Jessica Knedler and Carley with fine results so far. The Bulldogs have yielded just two goals this season. On Saturday, CUNE fended off CUW on some dangerous set pieces to record a second shutout in a row. The Falcons (0-1-1) managed to unload 13 shots, including eight on goal. Carley was up to the task, saving all eight shots on frame.
On the attack, the likes of Sami Birmingham and Maria Deeter were active. They combined to take six of the team's 12 shots. All three of Deeter's shots were on frame, but denied by Tabitha Ortiz (four saves).
Henson used Carrie Black, Jennika Chapman and Kaitlyn Radebaugh in a starting lineup that included five freshmen. Taylor Roby and Michaela Twito were held out of the starting 11 and senior Esther Soenksen was sidelined completely. A total of 17 Bulldogs saw action.
No true champion was declared at the weekend event involving the Concordias of Nebraska, Ann Arbor, Chicago and Wisconsin. CUAA went 2-0 while CUNE went 1-0-1, CUW went 0-1-1 and CUC went 0-2.
On paper, the Bulldogs face their most challenging task yet this fall when Bellevue University makes a visit to Seward on Wednesday for a 7 p.m. CT kickoff. The Bruins (1-2) have played a challenging early season schedule and have suffered losses to No. 1 University of Northwestern Ohio and to Northwestern of the GPAC. CUNE will look to avenge a 2-1 loss at Bellevue in 2016.