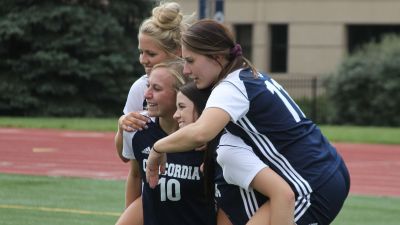 SEWARD, Neb. – More than two weeks of preseason prep will have passed by the time the Concordia University women's soccer team officially opens up the 2018 season. Preparations have included a pair of scrimmages against opposing institutions as well as an intrasquad match. Head coach Greg Henson's squad will begin regular-season action on Saturday when Tabor College (Kan.) visits Bulldog Stadium for a 2 p.m. CT kickoff.
All Concordia women's soccer varsity regular-season games will be streamed live via the Concordia Sports Network. New this season to the webcasts will be enhanced high definition picture.
Much is expected of a program that has produced three total GPAC titles and two national tournament appearances over the previous four seasons. Senior Maria Deeter and her classmates have been major players in that run. Stellar play from the midfielder from Seward is a given. What Henson hopes to see emerge is a dependable goal scorer or two up top. Sophomore Kaitlyn Radebaugh is a candidate, but she is still working her way back after tearing her ACL at the end of the 2017 season. Another potential top goal scorer is newcomer Brynn Suddeth, who knocked in 23 goals over two seasons at Allen Community College.
Defensively, the Bulldogs expect to be a force once again. GPAC Defensive Player of the Year Lindsey Carley is back in goal. It appears that freshman Cheyenne Smith will join sophomore Chelsea Bright to form a solid center back duo. A season ago, Concordia allowed just one goal during 10 conference regular-season games on the way to a GPAC championship. Many others contribute to such dominant defensive results. Saturday will be the first chance to see how the pieces may fit together for another potential title chase.
A member of the Kansas Collegiate Athletic Conference, Tabor finished 5-10-2 overall last season. They finished with an even goal differential (27 goals scored, 27 goals allowed). The Bluejays will have to replace their leading goal scorer, Dakota Spencer (13 goals), who banked nearly half of the team's goals a year ago. Tabor was picked by league coaches to finish 10th out of 13 teams in the KCAC.
The Bulldogs will remain at home next week to host MidAmerica Nazarene University (Kan.) on Wednesday, Aug. 29. Kickoff is set for 7 p.m. CT.