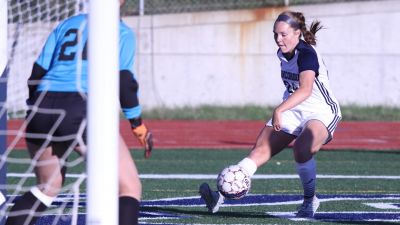 SEWARD, Neb. – Just about every time the Concordia University women's soccer team has faced a GPAC team currently residing in the back half of the standings, things have gotten ugly. But in a good way from the perspective of the Bulldogs. Three different players wearing the home white kits found the back of the net in a 3-0 win over Doane in Seward on Wednesday night.
Fifth-year head coach Greg Henson's squad has equaled a program record for longest ever unbeaten run against GPAC opponents. The streak is active at 14 games (13-0-1), tying the 2014-15 streak (10-0-4). This 2017 Concordia team stands at 9-2-3 overall and at a first-place 5-0-1 in the conference.
"That was the goal and we accomplished that," Henson said of the latest victory. "We definitely would have liked to have been more clean and more crisp in how we played. I thought we played well in segments but really didn't put together a full 90 minutes from the effort and work rate side of things. It's the grind of the conference season. It's just about that next game."
The scoring opened up in the 19th minute when a Maria Deeter pass up the field led Sami Birmingham on a run into the box. The native of Johnston, Iowa, knew what to do with it. A high arching shot lofted by Esther Soenksen and an impressive curling corner kick from Victoria Cera made for a 3-0 halftime advantage.
The Bulldogs may not have been as sharp as hoped, but they still managed to control possession. That's been a theme throughout conference play. More than a dozen games into collegiate soccer, Cera and fellow freshman Michaela Twito have teamed with Deeter on a terrific collection of midfielders. They are a big part of the reason why Concordia has allowed just a single goal through six conference games. Jessica Knedler and Abby Goeckeler split the shutout in goal on Wednesday.
"We've been working together and we've been meshing well," Cera said. "We've been reading each other's movements. That's really contributed to our performance on the field."
It took Doane more than 60 minutes to record its first shot of the contest. The Bulldogs ended up with a 27-2 edge in shots (16-2 in shots on goal) and an 11-0 advantage in corner kicks. The Tigers (1-10-2, 0-6 GPAC) are working on rebuilding a program that won the 2012 GPAC tournament title. The positive Doane could take away from Wednesday was that it held Concordia off the scoreboard for the entire second half despite the ball living in the Bulldog attacking third.
By the next outing, Concordia will have gone more than a full year (Oct. 12, 2016 vs. Midland) since suffering a loss at the hands of a conference foe. During the active 14-game unbeaten streak when playing GPAC teams, the Bulldogs have out outscored opponents by a collective total of 50-4.
"We're very excited," Cera said of the opportunity that sits in front of Concordia. "They're tough teams but we like playing high-intensity games. We're very competitive."
The Bulldogs will remain at home and host Morningside (7-5, 3-2 GPAC) on Saturday in what will be a rematch of both the 2015 and 2016 GPAC tournament championship games. Kickoff from Bulldog Stadium is set for 5:30 p.m. CT. Concordia defeated the Mustangs both in Sioux City and in Seward during the 2016 campaign.