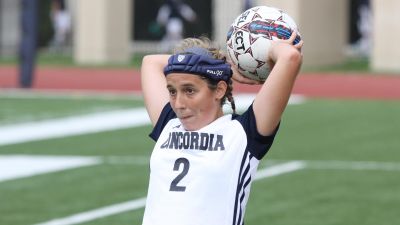 SIOUX FALLS, S.D. – Thunderstorms forced the Concordia University women's soccer team to spend another night in South Dakota. Originally scheduled to play late Saturday afternoon, the Bulldogs waited until Sunday morning to claim a 2-0 victory over Dakota Wesleyan in the GPAC opener for both sides. The game was moved to O'Gorman High School in Sioux Falls, S.D.
Fifth-year head coach Greg Henson has led Concordia to a conference regular season mark of 22-6-4 since the beginning of the 2014 season. The 2017 squad has improved to 5-2-2 overall.
"Coming up here is never easy for us," Henson said. "We wanted to manage the game correctly and make sure we got the three points that we needed. It's been a long trip up to South Dakota this weekend. Even though it was only 1-0 for most of the game, it felt like we had the game where we needed it. We finally got the insurance goal late off a corner kick from Jeannelle (Condame)."
The Tigers (5-3, 0-1 GPAC) were coming off a win over a University of Jamestown team that received votes in the national coaches' poll. But on this particular day, Dakota Wesleyan's attack generated precious few opportunities. The Bulldogs outshot the Tigers, 19-4 (10-4 in shots on goal).
A scoreless stalemate lasted until Lauren Martin found the back of the net in the 32nd minute after playing a ball from Sarah Wuthrich. Condame put the finishing touch on the victory by curling in a corner kick in the 88th minute. It was a busy day for Condame during a game that featured 14 Concordia corner kicks.
Goalkeeper Lindsey Carley made four saves while recording the shutout with the help of a back line that blends the experience of the likes of Leah Shohat and the youth of rookie Chelsea Bright at center back. Henson has also regularly employed freshmen Victoria Cera, reigning GPAC offensive player of the week, and Michaela Twito in the starting lineup.
The Bulldogs had other opportunities to put goals away. Sami Birmingham topped all players with five shots (one on goal). Martin placed all four of her shots on frame. Maria Deeter was also credited with four shots, including three on goal.
Concordia will be at home for both of this week's contests. Up next is Tuesday's (Sept. 26) visit from Mount Marty (2-4, 0-1 GPAC). Kickoff is set for 5:30 p.m. CT from Bulldog Stadium. The Bulldogs are 2-1-1 at home this season.