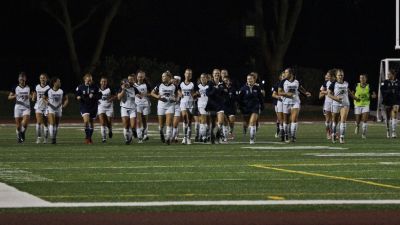 SEWARD, Neb. – Two challenging road contests await the Concordia University women's soccer team this week as the Bulldogs wrap up nonconference regular-season action. Concordia (2-0-2) will renew what's been an annual rivalry with Bellevue University (1-2) on Tuesday. Then on Saturday, the Bulldogs will be in Wichita, Kan., to challenge Friends University (3-1), a member of the Kansas Collegiate Athletic Conference.
This week
Tuesday, Sept. 11 at Bellevue, 5 p.m. CT
Saturday, Sept. 15 at Friends, 12 p.m. CT
For live stats of Tuesday's contest, visit this LINK at game time. Friends will have a live stream on Saturday via its Stretch Internet portal.
Sixth-year head coach Greg Henson's squad is coming off its first road game of 2018. The result was a 1-1 double overtime draw at Kansas Wesleyan University in a matchup on Sept. 8 between teams receiving votes in the national poll. In the latest GPAC ratings released on Monday, Concordia checked in at No. 4 behind Hastings, Midland and Jamestown. All four of those teams are either ranked or receiving votes, meaning the GPAC is arguably the most competitive it ever has been in the sport of women's soccer. The Bulldogs could use a two-win week if they want to make a run at cracking the top 25 like they did twice last season when they were ranked as high as 21st.
Officially, it's been more than a year since the program's last defeat – a 2-1 overtime loss at Graceland University (Iowa) on Sept. 9, 2017. Concordia has alternated wins and ties through its first four games this season. The draw at Kansas Wesleyan was a favorable result considering the absences of starters Ashley and Lauren Martin, who will both return on Tuesday. Lauren Martin has already recorded six assists (her average of 2.0 per game leads all NAIA women's soccer players). The Bulldogs continue to look for goal scorers to emerge. Senior Maria Deeter currently tops the team with three goals.
Bellevue has perennially been a difficult opponent to handle. Last season the Bruins came into Bulldog Stadium and left with a 4-1 victory. That has been Concordia's most lopsided loss over the past three seasons. Bellevue got its first win on Sept. 2 by toppling McPherson College (Kan.), 4-0. The Bruins have been idle since then. Meanwhile, Friends owns wins over Southwestern Christian University (Okla.), Park University (Mo.) and Wayland Baptist University (Texas). The Falcons finished the 2017 campaign at 8-8-2 overall.
Deeter and the Dawgs will open up conference play next week (Wednesday, Sept. 19) when College of Saint Mary visits Seward. Concordia will close the week on Saturday, Sept. 22 by playing at Northwestern.