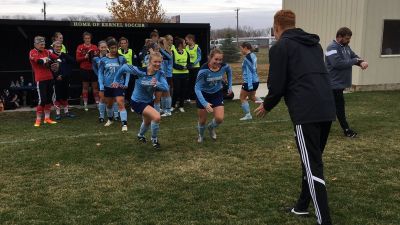 MITCHELL, S.D. – It took a while, but the Concordia University women's soccer team eventually caught fire in time to end the 2016 regular season with another comfortable win. A quartet of second half goals carried the Bulldogs to a 4-1 victory at Dakota Wesleyan (2-14-1, 2-7-1 GPAC) on Saturday afternoon. Concordia has now won five-consecutive games.
Over the five-game hot streak, fourth-year head coach Greg Henson's squad has outscored opponents by a combined total of 20-1. The Bulldogs will take a 12-5-1 overall record into the postseason. With a final conference mark of 7-3, Concordia equaled a program record for most GPAC wins in a season.
"Dakota Wesleyan worked hard and made it difficult for us," Henson said. "It's always tough for us up here. We didn't have the same flow that we've had. We came out in the first half kind of like we did against Briar Cliff.
"We had a ton of opportunities in the second half before we finally got one. We were able to put it away from there. It's a good way to end the regular season for us. Being able to come from behind gives us some confidence heading into postseason play."
Goals seem to come in bunches for the Bulldogs. Three days earlier they put the game at Doane away quickly with four scores in the first 24 minutes of play. This time Concordia trailed 1-0 at halftime and waited until the second half before Sami Birmingham equalized with her team best 16th goal of the season.
The dam burst late in the contest when Maria Deeter won a battle in the box after a corner kick. Her goal gave the Bulldogs a lead that would only grow larger. Another corner kick from Jeannelle Condame resulted in a Jessica Skerston goal. Not long after, Concordia piled on with Esther Soenksen's goal that came off the assist from Birmingham.
The Bulldogs have earned a top-four regular-season finish for the third-straight year. Concordia has been dangerous in the postseason and is the only GPAC team to reach the conference tournament championship game each of the last two years. The program is right where Henson had envisioned it being.
"Our goal every year going in is to finish in the top four," Henson said. "We want the home field advantage at a minimum in the first round. I think we're a team that should be in the range every year. I think it showed a lot of resolve from our kids to be able to come back and earn that top-four seed after struggling a bit early in the conference season. It's great to come back with a five-game winning streak and five convincing wins."
Concordia will be the No. 3 seed at the GPAC tournament, which will begin on Tuesday, Nov. 1. The Bulldogs have earned the right to host Briar Cliff (9-7-1, 5-5 GPAC) in the quarterfinals. Tuesday's kickoff will be at 7 p.m. CT from Bulldog Stadium. These teams also met in last year's quarterfinals. Concordia won, 4-0, in Sioux City, Iowa, in that matchup.