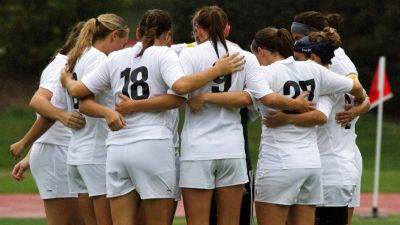 SEWARD, Neb. – Goals have been hard to come by in the series between the Concordia University women's soccer team and Northwestern. That trend continued on Saturday afternoon as the visiting Red Raiders needed just a lone goal from Alissa Christoffer to escape with a 1-0 conference-opening victory from rainy Bulldog Stadium.
The defeat snapped a seven-game home win streak for fourth-year head coach Greg Henson's program. The Bulldogs dropped to 5-3-1 overall.
"I thought Northwestern handled (the lightning delay) better than we did. We got off to a sluggish start," Henson said. "We really couldn't find control of the ball. We failed to play simple, which is one of the things we've been trying to focus on.
"I thought we came out of the second half with a little bit more energy and did some nice things. There were some periods of play in the second half where we really got the ball on the floor and kept it. That's where we need to be as a team if we're going to be successful in games like this."
Northwestern perfectly executed a corner kick in the 31st minute when Maddie Jacob played the ball into the box to Christoffer, who headed it into the upper right corner of the frame. It was one of four shots placed on goal by the Red Raiders (5-4, 1-0 GPAC).
Northwestern outshot Concordia, 10-8. It was another frustrating offensive day for the Bulldogs against the Red Raiders. Concordia last scored against Northwestern in 2011. Some of the Bulldogs' prime scoring opportunities came from Rachael Bolin, who had two one-on-one chances with the keeper.
Concordia had entered the week with four players ranked amongst the top 10 goal scorers in the GPAC. The Bulldogs had outscored their opponents by a combined total of 19-2 over their first five home games of the season.
The Bulldogs will take their act on the road on Wednesday when they travel to play No. 12 Hastings (7-1-1, 1-0 GPAC). Kickoff is slated for 5:30 p.m. Concordia has celebrated victories at Lloyd Wilson Field in the GPAC tournament each of the past two seasons.