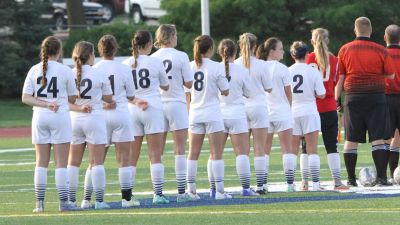 SIOUX CITY, Iowa – It was an exorcism of demons on Saturday evening as the Concordia University women's soccer team returned to the site of its 2015 GPAC tournament championship game loss. Having last won at Morningside in 2011, the Bulldogs tamed the Mustangs by a final of 2-1 underneath the lights at Elwood Olsen Stadium in Sioux City, Iowa.
Fourth-year head coach Greg Henson's squad also got another monkey off its back by winning on the road for the first time in 2016. The Bulldogs improved to 6-4-1 overall and to 1-2 in conference play.
Coming off a solid effort on Wednesday that saw Concordia come up just short of an upset at 11th-ranked Hastings, the Bulldogs played with the urgency needed to avoid an 0-3 GPAC start.
"I'm pleased with the effort," Henson said. "We were in this position last year where we come off an emotional game at Hastings and come here and lose the championship. It was nice to see us rebound this year after another emotional game on Wednesday. Collectively it was a good team effort. This is something we can build on."
Concordia had to dig out of a 1-0 hole after Amy Grause found the back of the net at the 15-minute mark for her sixth goal of the season. The response came 20 minutes later when Jessica Skerston, assisted by Esther Soenksen, put away the equalizer.
A consistent force as a freshman, Sami Birmingham notched the game winner at the 68-minute mark when she tallied her eighth goal of the year after playing a ball from Jordan McCoy. The forward tandems of Birmingham and Rachael Bolin and Skerston and Soenksen proved to be a handful for Morningside. Skerston and Leigha McConnell both lent solid contributions off the bench and Henson also made note of the play of senior defender Megan Brunssen.
Shots were at a premium on Wednesday. The Bulldogs outshot the Mustangs, 9-8, while putting all nine shots on frame. Goalkeeper Chrissy Lind made three saves.
Morningside (4-6, 2-2 GPAC) returned the bulk of its key players from the 2015 team that won the GPAC tournament and advanced to the national tournament. Though the Mustangs are below .500 overall this season, they have dropped four games by a margin of just a single goal.
The Bulldogs will have a mid-week bye before returning to action next Saturday when they host Mount Marty (0-6, 0-3 GPAC) as part of homecoming festivities on the Concordia University campus. Kickoff from Bulldog Stadium is slated for 5:30 p.m. CT. The Lancers have surrendered at least five goals in each of their first six games.