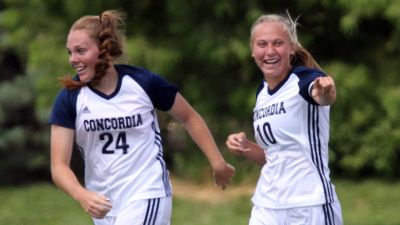 SEWARD, Neb. – For the second time in less than a year, the Concordia University women's soccer team can claim a GPAC tournament title on its home turf. On Nov. 10, 2016, the Bulldogs toppled Morningside in the conference championship game in front of the most frenzied women's soccer crowd ever seen on Concordia's campus. Fifth-year head coach Greg Henson's squad would love to experience that same type of atmosphere on Wednesday when No. 20 Hastings makes its way to Seward for a 5:30 p.m. CT kickoff.
In terms of regular-season action, it doesn't get any bigger than this. Still unbeaten in conference play, the Bulldogs (12-2-3, 8-0-1 GPAC) would lock up an outright GPAC regular-season championship with a win over the Broncos (13-1-2, 7-0-1 GPAC). On the flip side, Hastings would sew up at least a share of the conference crown if it can walk out of Bulldog Stadium with a victory.
"We want to keep from putting any extra undue pressure on the team," Henson said. "We've done all the hard work up until this point to put ourselves in position to compete for the regular-season title and the No. 1 seed in the postseason. The team is excited about the opportunity they have on Wednesday. It's always a good and competitive battle when Concordia and Hastings get together."
Now a seasoned junior, captain Maria Deeter knows exactly what it's like to compete in games of great significance. She and her teammates were blown away by the crowd that gathered in Seward for the 2016 GPAC championship game. Deeter also starred in a memorable shootout win at 16th-ranked Hastings in the 2015 GPAC semifinals.
The past four Concordia-Hastings matchups have each taken place at Lloyd Wilson Field. The last time the Bulldogs hosted the Broncos, it resulted in a stunning 2-1 Concordia win over No. 16 Hastings on Oct. 29, 2014. The Bulldogs proved it was no fluke, knocking off the Broncos again in that year's GPAC title game.
"The Hastings game is always exciting," Deeter said. "The fact that we have a chance to win the conference outright makes it that much more exciting. I think we're ready for it. We just have to go out and play our game. That will be the key, just playing our game and not getting caught up in all the other things that come with it."
Remarkably, Concordia is unbeaten (16-0-1) in its last 17 games against conference opponents. During that stretch it has outscored opponents by a combined total of 55-4 and has recorded 13 shutouts. Even the graduation of record-breaking goalkeeper Chrissy Lind failed to stop the Bulldogs' roll. Lindsey Carley has stepped in as goalkeeper and ranks 10th nationally in goals against average.
Carley and company pulled off their most significant win of the season last week at No. 18 Midland. A Kaitlyn Radebaugh goal was all Concordia needed to sink the Warriors' own hopes of winning the regular-season title. The Bulldogs may not be the team with the national ranking next to their name, but they have proven it foolish to take them lightly.
"I think any time a team is ranked it puts a little more of a target on their back," Deeter said. "You want to prove that you deserve to be there and they're a beatable team. It adds a little extra motivation to show the rest of the teams that we can play with them."
Based upon recent results, there's no question Concordia can play with Hastings, which has yet to suffer a GPAC regular-season loss since stepping on a landmine at Bulldog Stadium in 2014. Concordia aspires to make the Broncos' Wednesday visit just as treacherous. Deeter says a boost from a big and loud crowd would only help the cause.
"Definitely come out and support us," Deeter said. "This game and the next couple games, we need all the help we can get. We've put in the work thus far to put ourselves in this situation. I have no doubt that Bulldog Nation's going to come out and cheer us on, hopefully to a win."
Concordia has already clinched one of the top two seeds in the GPAC tournament. That means the Bulldogs will be hosting one of four GPAC postseason quarterfinal games at 7 p.m. CT on Thursday, Nov. 2. The other dates for the conference tournament are Tuesday, Nov. 7 for the semifinals and Friday, Nov. 10 for the championship game. Concordia's regular season will end on Wednesday night.
All Bulldog home games can be watched live via the Concordia Sports Network.