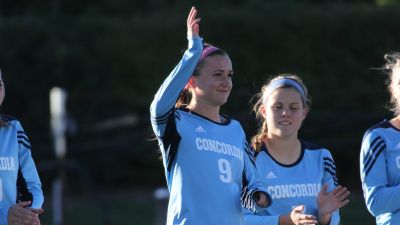 SIOUX CENTER, Iowa – Powered on the attacking end by the freshman duo of Sami Birmingham and Rachael Bolin, the Concordia University women's soccer team righted itself with a blowout GPAC road victory. Birmingham and Bolin combined for three goals as the Bulldogs knocked off Dordt, 4-0, in Sioux Center, Iowa, on Saturday afternoon.
Fourth-year head coach Greg Henson's squad has now won two of its first three GPAC road games and has improved to 8-5-1 overall and to 3-3 in conference play.
"It was a tough game on Wednesday so it was nice to bounce back and get the win today," Henson said. "It's always tough to win on the road in this conference. It's been difficult for us in our previous encounters up here. We got three goals in about a 10-minute span to really put the game out of reach. It was a good performance all around for the team."
The Defenders (6-7-1, 2-4 GPAC) got stung by the B's on Saturday. Birmingham struck first with what turned out to be her fifth game-winning goal and team leading 12th goal overall this season. Bolin took it from there, finding the back of the net in the 20th and 25th minutes. The three-goal flurry came over a stretch of less than nine minutes.
The Bulldogs took a commanding 3-0 lead to the halftime break. For good measure, junior Jeannelle Condame put away her second goal of the season and eighth of her career in the 61st minute.
Senior goalkeeper Chrissy Lind saved all five shots that Dordt put on frame. She is now the second player in school history to reach 300 career saves. She sits 36 off of Ariel Harris' program standard.
Lind already holds the program record with 22 career shutouts. She had help from her teammates on Saturday. The Bulldogs held a commanding advantage of 21-9 in total shots.
"I'd like to see Chrissy break the record. At the same time, I'd like to see us hold our opponents under 36 shots," Henson said. "We want her job to be as boring as possible. As a team defensively, we want to limit the opportunities she sees to have to make saves. She's had a stellar career."
Birmingham returned to the starting lineup after having been limited by injury in the 3-1 loss to Midland three days earlier. She took three shots on Saturday. Bolin led the team in that category. She fired seven shots, including six on frame.
The Bulldogs continue conference action on Wednesday (Oct. 19) when they host College of Saint Mary (6-8, 3-3 GPAC). Kickoff is set for 7 p.m. CT from Bulldog Stadium. The Flames are in their second year as members of the GPAC. In last season's first Concordia-College of Saint Mary meeting as conference opponents, the Bulldogs won, 3-2, in Seward.