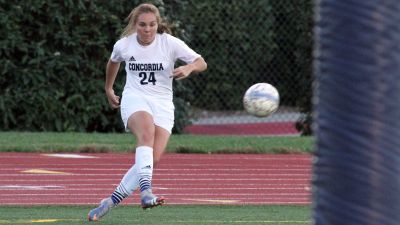 SEWARD, Neb. – In the midst of a standout freshman season, Sami Birmingham has been named the GPAC/Hauff Mid-America Sports Women's Soccer Offensive Player of the Week, as announced on Tuesday (Nov. 8). It's the first career weekly award for Birmingham. Senior goalkeeper Chrissy Lind has garnered the conference's defensive player of the week honor three times this season.
A native of Johnston, Iowa, Birmingham has helped push the Bulldogs into the GPAC championship game while recording two goals, including the game-winning goal, in the 5-1 quarterfinal win over Briar Cliff and the assist that led to Esther Soenksen's golden goal in the 1-0 overtime semifinal victory at Midland. The Briar Cliff contest marked the fifth multi-goal game of the season for Birmingham.
Ranked No. 4 in the GPAC in total goals, Birmingham's 18 goals rank as the second highest single-season total ever for a Concordia freshman. Her six-game winning goals place her eighth on the NAIA national leaderboard. She also ranks 15th nationally in points (45). In addition to her 18 goals, Birmingham has notched nine assists.
Birmingham and the Bulldogs (14-5-1) will host Morningside (10-7-2) in the GPAC tournament championship game on Thursday. Kickoff from Bulldog Stadium is set for 7 p.m. CT. The occasion will mark the first time the program has ever hosted the conference championship game.