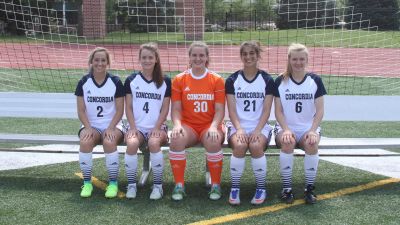 SEWARD, Neb. – After two on the road, it's time for two at home. The Concordia University women's soccer team will have a chance to extend its unbeaten run in conference play this week when it hosts Doane on Wednesday (Oct. 11) and Morningside on Saturday (Oct. 14). Saturday's meeting will be a rematch of the 2015 and 2016 GPAC championship games. Last year's title tilt resulted in a 3-1 Bulldog win in Seward.
This week's schedule
Wednesday, Oct. 11 vs. Doane (1-9-2, 0-5 GPAC), 5:30 p.m.
Saturday, Oct. 14 vs. Morningside (6-5, 2-2 GPAC), 5:30 p.m.
Head coach Greg Henson has led the program to two separate GPAC undefeated streaks of more than 10 games. The 2014 conference tournament titlist went 7-0-3 during the GPAC regular season and then won three conference postseason contests. The 2015 team pushed the unbeaten run to 14 (10-0-4) before suffering a loss. The program currently has an active 13-game undefeated streak (12-0-1) against GPAC opponents. It's been nearly a full year since the last loss to a conference foe (Oct. 12, 2016 vs. Midland).
On Saturday, the Bulldogs will celebrate a class of five seniors: Jeannelle Condame, Abby Goeckeler, Leigha McConnell, Leah Shohat and Esther Soenksen. Since the seniors stepped on campus in 2014, Concordia has gone a combined 53-16-9 with two national tournament appearances. Among active players, Soenksen possesses the most career goals (28) and assists (21). Soenksen has played in all 76 games the Bulldogs have played over the past four seasons.
Doane is trying to return to the level it reached in 2012 when it won the GPAC tournament. The Tigers are under the direction of second-year head coach Jennifer Kennedy-Croft. Their lone victory of the season came over Manhattan Christian College (Kan.) on Sept. 12. In five conference games, Doane has been outscored by a combined total of 22-0. Tiger keepers have been under heavy fire this season. They rank 22nd nationally in saves per game (8.5).
The Mustangs have had an up-and-down first 11 games. They defeated then 24th-ranked Cardinal Stritch University (Wis.), 2-1, on Sept. 10. Morningside is coming off a 4-1 home loss to College of Saint Mary this past weekend. The team's leading goal scorer is Merle Bublitz, who has racked up 10 goals and five assists this fall. Morningside won a GPAC tournament title as recently as 2015 and a conference regular-season championship as recently as 2013.
Both of this week's games will be featured live on the Concordia Sports Network. Just three regular-season matches will remain on the schedule after this week concludes. Next week the Bulldogs will be at No. 19 Midland (Oct. 18) and at Dordt (Oct. 21).