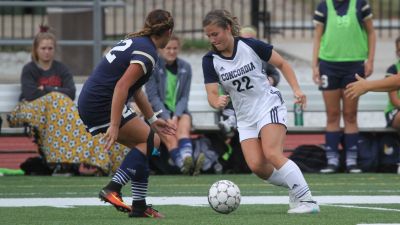 SIOUX CENTER, Iowa – It took a stellar effort from goalkeeper Naomi Schimmel in order for Northwestern to earn a draw on Saturday (Oct. 7) evening. That's exactly what the Red Raiders got. Her 17 saves meant the Concordia University women's soccer team had to settle for a 0-0 double overtime draw in a contest that took place in Sioux Center, Iowa.
The battle featured a pair of teams without a loss in conference play. Fifth-year head coach Greg Henson's squad leaves town with records of 8-2-3 overall and 4-0-1 in the GPAC. The tie pushed its GPAC point total to 13 on the year.
"We just couldn't capitalize," Henson said. "They're a good, sound defensive team. They forced us into some bad shots. That's who they are. They played a little bit different than we expected them to. Any time you go on the road and come away with points, it's a success. I thought we were deserving of a win. When you head into a second overtime, you want to make sure you walk away with a point."
The frustration for the Bulldogs is that they failed to put away a single goal despite the many chances they created. Concordia outshot Northwestern, 26-7, including 6-1 over the 20 minutes of overtime action. The Bulldogs flirted with a potential golden goal on several occasions. Lauren Martin got loose behind the Red Raider defenders with a counter attack that followed a Northwestern corner kick. Eventually one-on-one with the keeper, Martin misfired to the left of the goal.
Schimmel and company were peppered throughout the game by the likes of Maria Deeter (six shots), Sami Birmingham (four shots) and Victoria Cera (four shots). Three other Bulldogs were credited with three shots apiece. Two of Deeter's shots came after regulation had ended. One hit the crossbar on a header attempt.
On the other end of the field, Lindsey Carley faced a mere fraction of the pressure placed upon Schimmel. Carley was called upon to make only three saves. Not a single Red Raider player took more than one shot. Concordia has allowed just a single goal in the first half of the conference season.
Northwestern (8-2-3, 3-0-2 GPAC) is one of the most difficult teams in the NAIA to score on. The Red Raiders, who also tied No. 18 Midland, have surrendered just five goals all season. Coming into play, Schimmel ranked ninth nationally in goals against average (0.400). Northwestern did a solid job of keeping the ball out of especially dangerous areas in the box against a Concordia team that had produced 18 goals over its four GPAC wins.
"We got off to a little bit of a sluggish start," Henson said. "I thought we played really well during parts of the second half. It just wasn't our night to score goals."
After a week on the road, it's time for some home cooking. The Bulldogs will host Doane (1-9-2, 0-5 GPAC) at 5:30 p.m. CT on Wednesday (Oct. 11). The Tigers are still seeking their first conference victory after a 6-0 home loss to Dordt on Saturday. Concordia defeated Doane handily, 5-0, last season in Crete.