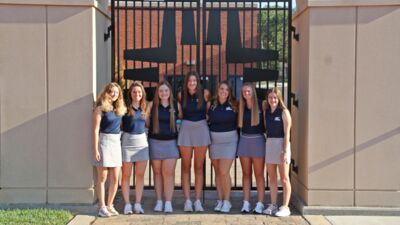 Head Coach: Brett Muller (12th year)
2021-22 GPAC Finish: 5th (351-353-365-343–1,412)
Key Returners: Logan Eschliman; Lauren Havlat; Mya Nurse.
Key Losses: Emily Jensen; Kendra Placke.
2021-22 GPAC All-Conference: Kendra Placke (3rd place); Lauren Havlat (Honorable Mention).

Outlook
It's now the post-Kendra Placke era for Concordia University Women's Golf, which is banking on the combined improvement of several veteran returners to help make up for the loss of one of the program's all-time greats. With Placke starring at the top of the lineup, the Bulldogs turned in team GPAC placements of third, third and fifth, respectively, over the past three seasons. Her graduation will make for competition for the No. 1 spot in the lineup and gives a couple of incoming freshmen a shot at cracking the team's top five.
Early indications from the team's preseason qualifying rounds have been positive. Head Coach Brett Muller enters his 12th season leading a program that won a tournament title (Matthew Goette Fall Classic) as recently as the 2020-21 season.
"Our returners have continued to improve," Muller said. "We've seen that with some of our scores in our fall qualifying. Emery Custer is a freshman that comes in from Broken Bow. She comes from a very solid high school program. I fully expect her to compete and make an immediate impact in our top five right away as a freshman."
Custer figures to find a spot alongside a returning group that features Logan Eschliman, Lauren Havlat and Mya Nurse. Said Muller, "Those three have quite a bit of varsity experience in our top five and know what to expect. With Logan and Lauren, they know it's their last year and they're going to do everything they can to help the team perform as well as we can."
A Lincoln native and Norris High School graduate, Havlat posted a score in the 70s in one of the team's qualifying rounds and returns after earning Honorable Mention All-GPAC accolades last season. Havlat and company shot an average team score of 352.8 in 2021-22 and posted second-place finishes at three separate tournaments. Havlat shot an average round of 89.3 and is followed by Nurse (90.4) and Eschliman (94.5) in terms of top scoring averages.
The rest of the roster includes returners Ashley Gerczynski and Sarah Wilson and freshman Ericka Kroeker. Of those three, one at least one will be a regular in the top five and have a say in what becomes of the 2022-23 season.
As for the returners, they learned a lot by watching the way Placke approached each event. Said Havlat, "'Kenny' will definitely be hard to replace. I already miss her and it's only been a few days this season. What I admire about her is you never knew if she was doing bad or good. She always kept it together and kept it cool. She was just a really good teammate."
At last season's GPAC Championships, Concordia used the same five golfers for all four rounds. Placke polished off her terrific career by placing third. She was followed by Havlat (17th), Eschliman (36th), Nurse (36th) and Emily Jensen (43rd). Having another individual or two join Havlat in the top 20 will be a key in terms of attaining another top five GPAC finish as a team.
For Havlat, her experience at Concordia has been about more than the scores or place finishes. She knows it will be emotional when her collegiate career concludes next spring. Said Havlat, "I'll never forget making TikToks with all the girls freshman year in the hotel rooms. There's literally nothing I regret. I really love it here. I wouldn't want to be anywhere else. I'll be an emotional basket case when I graduate."
The fall slate includes a total of five tournaments, starting with the Mount Marty Invite coming up Sept. 1-2. Concordia will stay within the region for additional events in Nebraska and Iowa and will welcome alumni to Highlands Golf Course in Lincoln on Sept. 10. Says Muller of the alumni event, "It's a great way to connect our current roster with some of the alumni. I think it will be a really fun day at Highlands."
As a change from previous years, the entirety of the GPAC Women's Golf Championship will be played in the spring (instead of being split between the fall and spring). Fifty-four holes of conference championship action will be contested at Spencer Country Club in Spencer, Iowa, May 1-2, 2023.