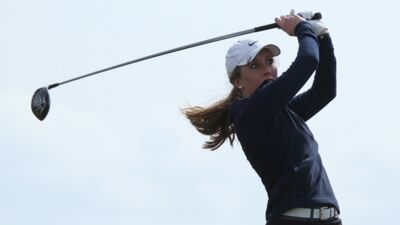 Head Coach: Brett Muller (8th year)
2017-18 GPAC Finish: 10th (383-376-377-368–1,504)
Key Returners: Rebecca Day (So.); Paighton Barbre (Jr.); Madison Pitsch (Sr.); Payton DeMers-Sahling (Jr.); Murphy Sears (Jr.).
Key Newcomers: Kendra Placke; DJ Bokelman; Britney Jepsen; Andrea Peterson.
Key Loss: Haley Nolde.
2018 GPAC All-Conference: Murphy Sears (8th).
Outlook
Another season of Concordia women's golf saw the program establish the latest clear No. 1 atop the lineup. Crete native Murphy Sears elevated her game while placing herself among the GPAC's elite. With GPAC champion Amy Ahlers having graduated in 2017, Sears crept from out of the shadows of an all-time great and proved she could handle the pressure that comes with the top spot.
Winner of an NAIA National Golfer of the Week award this past spring, Sears and her expected improvement provide optimism heading into this fall. The hope is to lower the scores of the grouping behind her in the lineup.

"Both are very good players," said eighth-year head coach Brett Muller when asked to compare Sears to Ahlers. "They probably will go down as two of the all-time greats in the women's program. I think it will really help Murphy this year having Kendra Placke coming in. She'll be very similar to what Amy had, having another great player to practice beside her. She should be able to push her and make her better."
Indeed, Muller hit the recruiting trail looking for instant impact newcomers that will ideally help the Bulldogs move up from their 10th-place GPAC finish last season. The program hit it big with the addition of Placke, a Seward High School product with plenty of college suitors. The former state and district champion will make for a legitimate one-two punch of local talent near the top of the lineup.
Sears and Placke already had developed a cordial relationship going back to their days competing against each other in high school. Now they'll compete as teammates to see which one can go lower each time out.
"I knew Kendra in high school so we go way back," Sears said. "It was fun playing with her. A lot of local people don't want to stay in the same town, which is kind of why I came here. I didn't really want to stay in Crete. I guess Kendra just felt like she fit in here. I think she'll be a good addition to the team."
The conversation about exciting newcomers may start with Placke, but it certainly doesn't end there. Muller expects transfer Andrea Peterson (formerly of Concordia College in Moorhead, Minn.) and freshmen DJ Bokelman and Britney Jepsen to make serious bids for spots in the varsity lineup. The Bulldogs hope to get Peterson (91.89 average as a freshmen) healthy and see quick development from Bockelman (Gering, Neb.) and Jepsen (Richardson, Texas).
Their will help will be needed in order to cut down on last season's team scoring average of 376.64. Muller would be happy to see more scores like the 2017-18 season low of 343 that came at the College of Saint Mary/Midland Invite back in April. Says Muller, "I think the majority of the newcomers definitely have a chance to come in and play right away. Our lineup could be significantly different in the top five. On the women's side, we'll be deeper than we have been."

The returning regulars other than Sears include juniors Payton DeMers-Sahling and Paighton Barbre and senior Madison Pitsch. DeMers-Sahling displayed her potential by shooting an 84 as part of that solid team effort at the CSM/Midland Invite.

With new talent on board, Sears sees reason to believe Concordia can make a lot more noise this season from a team perspective.

"Practice should be pretty competitive overall," Sears said. "I think that will be good. When we get to meets we should be top five every one, even when GPAC comes around. Hopefully we can do that."
Sears and her teammates are also look forward to this coming March when the team has a spring break trip planned. Details are still being worked out on a destination. Sears is thinking somewhere warm and tropical.

However, the Bulldogs will remain within the GPAC footprint for their first meet of 2018-19. They will tee off the season with the two-day Mount Marty College Invite in Yankton, S.D., Aug. 30-31. The tournament will provide an opportunity to reunite with former graduate assistant Logan Wagner, now the Lancer head women's golf coach.