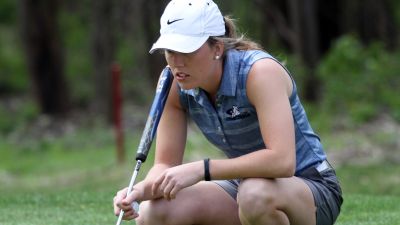 Preparation for the spring 2020 golf season began about like any other. Just prior to spring break, the weather in Nebraska had warmed enough for senior Murphy Sears and her teammates to navigate a few practice rounds at Highlands Golf Course in Lincoln. Sears had been experimenting with a new putter that she hoped would help elevate her game in her final college semester.
There was no reason to think anything was out of the ordinary when Sears, sophomore Kendra Placke and another friend made a road trip to Dallas over spring break. It was a chance for some fun and also some golf – until a new reality set in.
"It was on our way home – I think we got back to Seward on Wednesday – that all this stuff started happening," Sears said. "It just didn't seem real with all the news about the deaths and new cases and everything around the world. We didn't really think it would happen to Concordia. We thought Concordia will do everything it can to keep classes going and sports will be fine."
Within a week, Murphy's mother Jackie tweeted, "When you know this is the right thing to do, but you're sad to see your senior and her friends miss out on the spring season," along with a couple of photos meant to recall the memories made and the relationships formed since the start of Murphy's time as a Bulldog in the fall of 2016. As a consequence of the coronavirus pandemic, the entire spring women's golf season was lost. College athletes in 2020 are now emotionally coming to grips with something those before them never had to endure.
On a late morning when Sears should have been playing at the Concordia Bulldog Invite, she's instead discussing what her new temporary normal looks and feels like. It's not easy to hold an art class in this online world we're living in, as Sears is finding out. Says Sears, "Everything else is not too bad." The Crete, Neb., native is putting the finishing touches on a business administration major and minors in marketing and graphic design.
Unfortunately, she did not get to paint the final strokes of a collegiate golf career that included three GPAC all-conference awards. There will not be the proper goodbyes said to teammates and competitors and no championship event to truly signal the end. Perhaps most unfortunate, the time with teammates has been cut off, without warning.
"I'm going to miss most my teammates and coaches," Sears said. "Even the relationships I've built with players from different schools, I'll miss seeing them. I thought I would be able to see them for a month or two extra. The good thing is I can play golf forever so I should be able to meet up with some of my teammates and coaches."
The NAIA ruled not to charge any spring sport athletes with a season of competition, but Sears will be moving on. She accepted a position as sales and marketing coordinator at Landscapes Golf Management headquartered in Lincoln. Sears says she briefly toyed with the idea of returning for another year before deciding to stick with her original plan.
In this unique situation, golf can still serve as an escape for those who can find a still open course. There happens to be one in Sears' hometown Crete, where she has returned to since classes went online. Says Sears, "I've been playing there pretty much every day. Sometimes I go with my dad (Travis) or just go out by myself." In this world, no one is allowed to touch the flags and the holes are filled in so that players won't have to reach in to grab the ball.
Sears would much rather be chasing another all-conference finish and a top-two spot in the GPAC team race, rather than repeatedly playing the same nine holes at College Heights Country Club. Sears and her teammates had a good thing going back in the fall. They won the Nebraska Wesleyan Fall Classic, placed runner up at the Midland Invite and were currently in third place in the GPAC standings. It's a strange feeling to now be thinking about the journey in the past tense.
"There were quite a few (memorable moments)," Sears said. "One was when Amy (Ahlers) won the GPAC championship. That was something I'll never forget. I still talk to Amy all the time and we try to get together to play golf now and then. Another one was my sophomore year in the spring when I got the NAIA National Golfer of the Week award. That was pretty cool. Plus this whole fall (2019) season was pretty exciting. I wish we would have been able to finish it out."
Along the way, her parents and other family members were fixtures at Murphy's meets. They typically had plenty to celebrate. Sears played in 49 career rounds (31 events) and placed in the top 10 of 14 tournaments. She recorded a career low round of 73 at the CSM/Midland Invite in 2018 and was the tournament champion. Sears has been a constant and steady performer who earned the respect of teammates such as Ahlers, Placke and everyone in between.
No, this isn't the ending any senior wanted, but Sears will always hold onto the fond memories. It'll be hard not to smile when thinking back to those long outings on the course (sometimes 36 holes in one day) and road trips with teammates. There were also the post-meet interviews often interrupted by fellow Bulldogs, who shared in her successes. No virus will take away those moments.