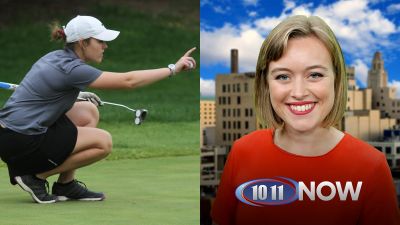 A former member of the Bulldog golf team and 2019 Concordia graduate, Madison Pitsch has transitioned into a career as a full-time reporter for 1011 NOW (KOLN/KGIN) out of Lincoln, Nebraska. In recent weeks, Pitsch has worked as part of the coverage team for protests stemming from the death of George Floyd and racial inequality. A native of Concordia, Mo., Pitsch earned degrees in Journalism and Spanish. She provided a window into her career in this Q&A with Concordia Athletics.
Firstly, what is it that brought you to Concordia?
My parents brought me to Concordia. They met there and I didn't want to follow in my parents' footsteps. I was like, 'I'll go visit so you guys can go see it with me.' Walking around the campus – it just felt right. I had gone to some other schools and I liked them, but I couldn't see myself being there. With Concordia I could see myself there. I've been going to a Lutheran school since I was 3 and Concordia seemed like the logical next step.
Did you know you wanted to play golf somewhere? Was that part of your thinking all along?
No. I knew I wanted to try and play a sport in college, I just didn't think it would be golf. I got into golf after I quit volleyball in high school. My dad was like, 'Well you need to do something,' and our golf didn't have a lot of girls on it. So I was like, 'I can try that.'
As far as your interest in journalism, was that something that developed before you got to Concordia or after you started college?
Originally I had no idea I wanted to be a journalist. I thought I would probably end up being a teacher like my parents. I was kind of floating around after my freshman year of college. I didn't really know what I wanted to do. My dad actually suggested (journalism). I thought that would be cool. I took a class with Jamie Hink. It was so cool to know what was going on. I took some journalism classes and thought I wanted to be where things are going on – and I love talking to people. I love telling stories. I get to be creative with my job. I get to shoot video and edit. I stumbled into something really good. I didn't know I could find a job that fit me this well.
You were on The Sower (Concordia student newspaper) staff. What did you get out of that experience? Obviously that was a bit different from what you're doing now.
I wrote for The Sower and literally put it together. I learned that I'm not a management kind of person. I learned a lot about what makes good news and good reading. I learned how to make editorial decisions and that was really useful to me now in my job because I can edit before I turn it into my editor. It helps me look for stories that are newsworthy.
You interned at 1011 while you were still a student at Concordia, correct?
I interned with them the summer before my senior year and then I started working with them the second semester of my senior year.
How were you able to make that connection with 1011 and land that internship?
I had previously interned at a newspaper so I had some experience, and I was still writing for that newspaper while I was in school. I thought it was fun but that being a TV reporter would be more of a fit for me. I walked into Corey Gray's office and said, 'Can you help me find a TV station? I want to see if I like that.' I kind of had this thought before but it's not a common job. I thought I would try it and if I hated it I knew I still liked writing for newspapers. Corey got back to me in like a day and I applied for it. That was pretty much it. I think it was all finalized in February of my junior year. You need someone to take a chance on you.
I know you have had opportunities to anchor the news broadcast. What was that like the first time you were on TV in that role?
Oh my gosh, it was so terrifying. You go on TV, you read the teleprompter and you have all the lights on you. It's only like a minute-and-a-half at a time. I went up to my boss said I really want to try this. 'Can I do this?' They were like, 'Yeah, we'll find a time to fit you in.' I filled in a lot over the holidays. The first time I did that and you hear the theme music in your headpiece you're like, 'Oh my goodness.' There are a lot of deep breaths. I was like shaking under the desk. The more I've done it the easier it's gotten, but I still have nerves. I have nerves even when I just report. It's adrenaline for sure. It's kind of exciting.
Is there an embarrassing moment that you'd be willing to share? Maybe it's one that has helped you grow early in your career.
I said 'fart' on air once. I was trying to say the 'start of fall break' and I said the 'fart of stall break.' I wanted to die. That was one of the first times I anchored. I think I clipped it and put it somewhere. It was so embarrassing. I was talking with the weatherman and I had to keep talking. I couldn't just stop and laugh at myself.
You have a job where different things pop up all the time but in a typical week, what are some of your main responsibilities?
Before the pandemic and before people were protesting I was on the economic and development beat. In one week I'm calling like 20 people asking if there's anything going on in their business or organization and is there a story idea I can get out of that. I'm reading a lot of news and trying to find a story. Not a lot of my work carries over to the next day, but I do have to do a lot of prep work for each week.
How much interaction do you have with the sports staff there, which includes Kevin (Sjuts), Dan (Corey) and Nicole (Griffith)?
I sit right next to the sports staff. Right before all this happened it was girls' state basketball and you could feel the anxiety. Covering something of that magnitude is always super stressful. Kevin always has great advice. Dan's always helping me with my packages. He'll watch my stuff and say, 'Hey, you did this really well. You could work on this to improve.' He's always helping me out. I'm glad I'm sitting so close to them.
And Concordia has to come up in the conversation, right?
If I can say it on air I always try to sneak that in there.
What do you find most rewarding about this type of work?
I like giving a voice to people who otherwise wouldn't have one. It can be personally rewarding because you get to go on TV and do a fun job, but I really like when I do a story that makes a difference in someone's life. I interviewed a guy who was hit on a motorcycle and his wife was pregnant. They were doing a fundraiser to help with his medical bills, because they were astronomical. When you can make a difference like that just by talking to someone, that's really rewarding. I'm just happy to tell people's stories to make a difference.
How often do some of your friends tease you about being TV famous?
All the time. I'll walk into a room and they'll be like, 'Ron Burgundy!' Madison Pitsch is not as exciting as Ron Burgundy. But it's cool. Sometimes I'll be going live somewhere and my friends will drive by and text me, 'Oh my gosh, we saw you.' Everybody always sends me Snapchat videos of me talking on TV if they're watching the news. It's kind of cool that it's a way to stay connected with people when I can't be with them.
Describe what it's been like being around some of the protests lately. Were you around some situations that got a little volatile and what was that experience like?
I was in those areas. This was all in two days. So the Saturday I covered businesses and windows being smashed, things being stolen and that kind of stuff. That was really the first time I've been around any kind of protest or riot. It was a lot to wrap my mind around, especially talking with business owners. The lady I spoke with that was her business. She brought it up from the ground for like seven years. She served the community here so it was really devastating for her. Then Sunday I went out as the photographer to help the reporter with her live shots. We were right in the middle of the protests. We ran, we got tear-gassed – all that kind of stuff. It sounds traumatic when you're talking about it. I got to be part of history. I got to see it and watch it happen here in Lincoln. You sign up for the job knowing you could put yourself in that situation. I never expected it to happen in Lincoln. It was cool because that movement is very passionate. People want change and you can feel that when you're there. I'm glad I got to go and see it with my own eyes.
I was holding that camera and it's like 15 pounds. When you're holding it up on your shoulder and you're having to run backwards – my arms were so sore the next day.
What advice would you give to people at Concordia or wherever that maybe want to get into a career in TV reporting?
My biggest advice is to just go for it. You have to work hard if you want to be part of this industry. You have to make connections and get internships. I think the internship was really key to me getting the job. I learned the ins and outs of how being a TV reporter worked and I knew the stuff I'd be covering. I networked. I made a nice thank you card and brought in candy. A lot of it is making connections and just going for it. I was really afraid they were going to say no. That was my biggest fear – being told no. My mom said that's the worst thing they can say.
I'd like to think our Lip Sync Challenge that you took part in prepared you for being on camera.
That's probably my most iconic moment (laughing). I'm the oldest child so I've always kind of been a camera hog. My dad would record our birthday parties with everyone singing happy birthday and blowing out the candles. I would like jump in front of the camera and pretend to be a weather caster. 'It's sunny outside today. Back to you.'