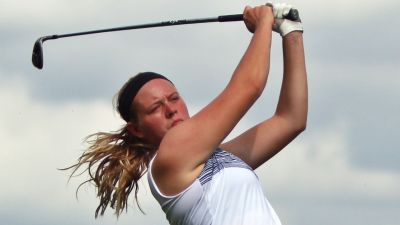 Plenty of star Concordia Bulldogs were sidelined back in the spring when sports were halted. Kendra Placke (a junior academically and sophomore athletically) and the women's golf team never even got a chance to get started with official action in March. It's a shame because Placke is a special talent with plenty of people in her corner around these parts. She's one of the latest in a growing line of Seward Bluejays to stand out at Concordia.
Recent Seward High School alums such as Trey Barnes (football/track), Allie Brooks (track & field), Seth Fitzke (football), Brevin Sloup (basketball) and others have made a strong case for staying at home. Still, Placke had to make the decision for herself.
"I really like the campus and community feel," Placke said. "Golf had a huge part in it. I love all of the professors. They know you by name and want to get to know you outside of the classroom, not just during class. They keep up with my golf and ask about tournaments. It is really nice and a good community feel."
In essentially a season-and-a-half of collegiate golf, Placke has established herself as one of the GPAC's best players and a contender to one day win the conference. The former state champion routinely has a big advantage over the opposition with her ability to drive the ball off the tee. Immediately, Placke became the program's No. 1 golfer and owns a career scoring average of 81.65. She's gone as low as 75 over the first 20 rounds of her college career.
Now the education major is attempting to tighten up the short game in an effort to maximize her gifts. Placke won her first collegiate event last fall when she shot a 79 at Pioneers Golf Course in Lincoln. She wound up sixth at the conference championships, which were limited to two rounds in the fall.
Said Head Coach Brett Muller, "The conference gets tougher every year, especially at the top. Kendra has worked very hard and we've definitely seen some improvement in her short game. The one hole in her game was around the greens and you can definitely tell she has put some time into it and continued to improve there."
The victory at the Nebraska Wesleyan Fall Classic stands out as perhaps her top moment so far as a collegiate athlete, but it will certainly be difficult to duplicate the high she felt when winning an individual state title for Seward. She shared that moment with her father and coach, Jim Placke. Her father has played a major role in her passion for the sport of golf.
"My dad has golfed his whole life and has always been into it," Placke said. "I just grew up at the golf course since he would take me along. My dad would bungee strap me into the golf cart when I was in a car seat. I would like to say I literally grew up on a golf course."
Placke's appreciation for the Seward community and the environment that Concordia had to offer made a huge impact on her college decision. It also didn't hurt that Crete native Murphy Sears had already been a member of the Bulldog women's golf team. Placke and Sears became especially good friends as teammates over the past two years. At the 2015 Class B state tournament that Placke won, Sears finished fifth.
Placke and Sears were actually together at the time when COVID-19 began shutting down the sports world. They were coming back from a spring break trip to Dallas when the crisis had been declared a pandemic. A few days later, the spring golf season was officially wiped out.
"It was really disappointing," Placke said. "It happened so fast that nobody really thought it was going to happen. Once it did happen I know everyone had a hard time and we would FaceTime each other. Coach was having team Zoom meetings on Fridays. We still tried to stay in contact and make sure everyone was doing okay."
Placke and her teammates had a good thing going. Back in the fall, the Bulldogs had won the Nebraska Wesleyan Classic, placed second at the Midland Invite and stood in third place in the GPAC (with a chance of climbing as high as second). While Sears has graduated and moved into a full-time job, the team has reason for optimism. Says Placke, "I am really excited to see what the team can do this year."
A community that saw her grow up will be following Placke's results. One can't help but think the collegiate success and positive experiences of local athletes like Placke have made Concordia an attractive destination for past and current Bluejays. Twenty-six 2020 Seward High graduates are now enrolled at Concordia. Placke won't take all the credit, but she's certainly a positive influencer.
Says Placke, "Seward is a great town. There is a great community here and students like that and like to be around who they know. It just transferred over to here and everyone here is really welcoming. They are ready to take us all in."