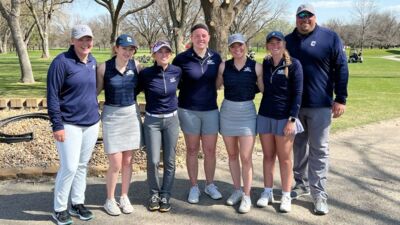 NORFOLK, Neb. – Spurred by Kendra Placke in the final round of her collegiate career, the Concordia University Women's Golf team leapt two spots into fifth place in the conference as the 2021-22 GPAC Women's Golf Championship concluded on Tuesday (April 26). The Bulldogs carded a team score of 343 in the final round of conference action, which took place at Norfolk Country Club in Norfolk, Neb. While placing third individually, Placke notched the best GPAC tournament finish of her impressive career.
The 343 turned in by Head Coach Brett Muller's squad on Tuesday marked its lowest round of the season within GPAC championship play. Concordia shot a four-round conference score of 351-353-365-343–1,412. The first two rounds were held at The Bluffs Golf Course in Vermillion, S.D.
"We came into today tied for seventh and finished fifth. I'm very proud of the girls," Muller said. "Talking with them about the round yesterday, we were disappointed with how we played. We knew that if we played well today we could move up a couple spots – and that's what we did."
Placke entered Tuesday's round 10 strokes in back of eventual GPAC Champion Sofia Castelan of Morningside. Placke shot a 79 on Tuesday and tied for the lowest score of any individual in round four. The Seward High School alum's four-round GPAC championship total ended up at 80-74-84-79–317. Placke's score broke the program record for lowest 72-hole GPAC championship score previously held by Amy Ahlers, who won the conference with a 319 in 2016-17.
It will be hard to say goodbye to Placke, who won six career tournament titles and shot an 18-hole average of 80.7 in 56 rounds as a Bulldog.
"Kendra had an awesome career," Muller said. "She's one of the top players in the history of our women's golf program. She's someone we could count on in our lineup all four years. She made an immediate impact as a freshman and continued to improve every year. These last two years, most of her rounds were in the 70s. It's huge to have someone like that at the top of your lineup. To finish with six career tournament wins is pretty special."
School records owned by Kendra Placke
· Lowest 72-hole GPAC Championship score – 317
· Lowest career scoring average – 80.7
· Lowest single-season scoring average – 79.8 (2021-22 season)
As a team, Concordia slashed 22 strokes off its round three score. Four of the five Bulldogs in the lineup improved from round three to round four. Norris High School product Lauren Havlat jumped into the top 20 of the final GPAC leaderboard after shooting an 86 on Tuesday. She wound up in a tie for 17th place via a four-round score of 86-87-94-86–353. In a lineup that remained the same for all four conference rounds, Concordia was also represented by Logan Eschliman (93-90-100-90–373; T-36th), Mya Nurse (92-102-91-88–373; T-36th) and Emily Jensen (97-102-96-100–395; 43rd).
The team's final cumulative conference score of 1,412 was 19 strokes short of the program record for lowest GPAC score of 1,393 accomplished last season. The Bulldogs have placed in the top five of the GPAC in each of the past three seasons.