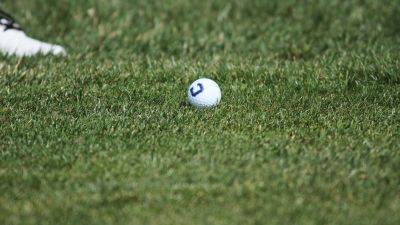 Ahlers paves way for season best team performance
LINCOLN, Neb. – Freshman Amy Ahlers capped a stellar effort at the two-day Nebraska Wesleyan Invite by shooting a team best 81 on Monday in Lincoln, Neb. Ahlers finished in a tie for 17th on the individual leaderboard for a Bulldog squad that set a new season low with a 359 on Monday's round two. As a team, Concordia placed ninth amongst the field of 12 squads at the invite with a two-day total of 380-359–739.
"We have a very young team and we know there will be some bumps," Bulldog head coach Brett Muller said. "But I'm very pleased overall with today's round. I know it was a different course today, but to improve by 21 strokes over yesterday's score is great."
Junior Melissa McIntosh made the biggest improvement from day one to day two. After carding a 102 on Sunday, the Lincoln native slashed 12 strokes off her score by shooting a 90 on Monday at Holmes Golf Course. That allowed McIntosh to move up into a tie for 49th overall.
Freshman Kayla Krueger carded a 93 on Monday on the heels of an 88 on Sunday. Her two-round 181 placed her second on the team and tied for 32nd among the 69 individuals who qualified for the leaderboard.
Sophomore Kristin Remm (55th – 103-95–198) and junior Allison Schieffer (61st – 103-102–205) held down the Nos. 4 and 5 spots in the varsity lineup at the Nebraska Wesleyan Invite. In all, four of the five Concordia competitors improved their scores on day two of the event.
Through four rounds of golf, Ahlers has been incredibly consistent, shooting scores of 89, 89, 87 and 81. Her average of 86.5 leads Concordia and is nearly two strokes better than the Bulldogs' lowest average during the 2012-13 season. Krueger is not far behind with scores of 92, 87, 88, 93, for a 90.0 average.
"Amy showed how good she can be," Muller said. "She has given us what we expected when we recruited her. She has a very good short game. She's spent a lot of time on it. The putts dropped for her today. She had two birdies on par 5's on her back nine."
The meet marked the first varsity experience for Remm, a native of Doniphan, Neb. She will continue to battle junior Jenelle Hallaert, among others, for the final spot in the lineup. Those positions are determined by play offs at practice.
Bulldog women's golf will be off until Sept. 23-24 when it takes part in the NAIA National Championships Preview meet at Wilderness Ridge Golf Course in Lincoln. The Bulldog men will hit the links on Tuesday at Wilderness Ridge in Lincoln for the Doane Invite.