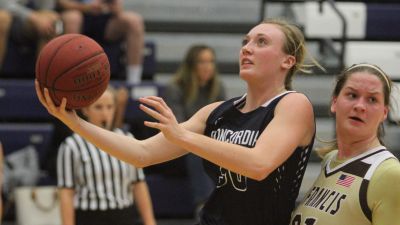 MITCHELL, S.D. – Two of the nation's highest scoring teams got together at the Corn Palace. The result was a defensive slugfest that featured Quinn Wragge playing the starring role in a 70-66 Bulldog victory over eighth-ranked Dakota Wesleyan in Mitchell, S.D., on Saturday afternoon (Nov. 18). Both sides entered the weekend without a blemish on their records.
Twelfth-year head coach Drew Olson's squad has already defeated three opponents with top 10 national rankings. The defending GPAC champions moved to 6-0 overall and to 2-0 inside the conference.
"I just think we came in with a really good focus aided by us not playing well here last year and our game against Midland (on Wednesday)," Olson said. "Because of those things we had a little more sense of urgency and a little more focus going into the game."
Wragge carried third-ranked Concordia through its offensive struggles against a big and physical Tiger team. Dakota Wesleyan (6-1, 1-1 GPAC) couldn't find anyone to hang with the Crofton, Neb., native, who went off for a game high 27 points on 11-for-15 shooting from the floor. Wragge ended the afternoon with 993 career points.
"Quinn was big time," Olson said. "She was ready to play and ready to be aggressive. She was locked in and able to knock down some big shots."
Even with Wragge's dominant performance, this game required the assistance of several teammates to pull out a road win at a visitor unfriendly venue. With the Bulldogs trailing 65-64 in the final minute-and-a-half, ready-for-primetime freshman Taylor Cockerill whirled a backdoor pass to Dani Hoppes for the go-ahead layup. Concordia proceeded to get crucial stops on the next two Tiger possessions and put the game away by sinking 4-of-6 free throws in the closing 30 seconds.
The Bulldogs shot a so-so 43.3 percent (26-for-60) from the field, but they were up to the task on the other end of the floor. Dakota Wesleyan settled for plenty of long jumpers while attempting to probe Concordia's zone defense. The Tigers shot just 33.3 percent (20-for-60) on a tough day for guards Kynedi Cheeseman (3-for-17) and Rylie Osthus (5-for-16). Head coach Jason Christensen's squad managed to limit its turnovers to 14.
Sophomore Philly Lammers did most of her damage in the opening quarter when she tallied eight of her 10 points. She also grabbed a game high eight rebounds. Hoppes went 6-for-8 from the floor and contributed 14 points. Cockerill added 13 points, six rebounds and three assists. Included in her day was a slick step back triple.
Dakota Wesleyan had won each of its first six games by margins of at least 18 points. The Tigers lost only once at home during the entire 2016-17 season. Osthus' 19 points were a team best. Amber Bray followed with 14 points. Concordia won two of its three 2016-17 matchups with Dakota Wesleyan, including the 2017 GPAC tournament championship game.
"This is definitely a hard place to come and play," Wragge said in a postgame radio interview. "They are a really, really good team. Coach told us, 'That was good basketball.' It was a fun game and an awesome win for us."
It would be difficult to find any team with a better early season résumé than the Bulldogs, who trampled fifth-ranked University of St. Francis (Ill.) at home before claiming road wins over No. 9 University of Jamestown in overtime and then No. 8 Dakota Wesleyan. Concordia also owns a victory over a Mayville State University team that appeared just outside the preseason top 25.
The Bulldogs will be back at home on Tuesday night (Nov. 21) when Mount Marty (5-2, 0-2 GPAC) visits Walz Arena for a 6 p.m. CT tipoff. Concordia has won each of its last 24 games played on its home court. The Lancers began the season with five-straight wins before dropping GPAC games to No. 10 Morningside and No. 20 Hastings. Tuesday has been declared Seward County Appreciation Night. No admission will be charged.