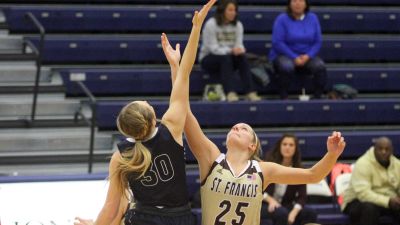 SEWARD, Neb. – An offensive outburst in the win at eighth-ranked Dakota Wesleyan propelled junior Quinn Wragge to GPAC/Hauff Mid-America Sports Women's Basketball Player of the Week honors, as announced by the conference on Tuesday (Nov. 21). This is the first GPAC basketball player of the week award handed out by the league for the 2017-18 season.
A native of Crofton, Neb., Wragge combined for 42 points and nine rebounds while leading the third-ranked Concordia University women's basketball team to victories over Midland and No. 8 Dakota Wesleyan. On the week, Wragge went 15-for-22 (.582) from the field and a perfect 11-for-11 from the free throw line. Her 27 points at Dakota Wesleyan were two shy of a career high. She currently leads the team in scoring with an average of 15.7 points per game.
A two-time first team All-GPAC selection, Wragge needs seven more points to become the 25th member of the program's 1,000-point club. In addition her 993 points, Wragge has accumulated 477 rebounds, 141 steals, 119 assists and 43 blocks over 75 games as a Bulldog.
Head coach Drew Olson's squad will return to action tonight (Nov. 21) and host Mount Marty (5-2, 0-2 GPAC) at 6 p.m. CT. Concordia (6-0, 2-0 GPAC) remains unbeaten and has already defeated three opponents with top 10 national rankings.